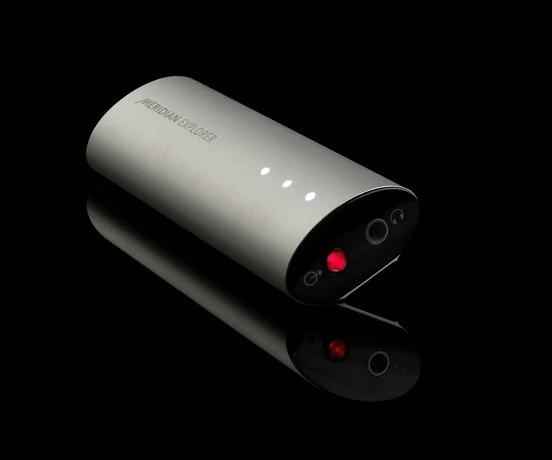 Meridian has just announced their new Explorer USB DAC, a pocket-sized high-resolution USB DAC aiming to provide computer-audio at its best.  The Explorer has connectivity to allow for it to be used in personal headphone-based systems right on through to full-scale systems.
With the Explorer, the connect computer's sound card is removed from the audio-chain and therefore, the door to higher quality audio performance is opened.  The new Explorer incorporates Meridian's resolution enhancement technologies to make any audio file, from MP3 to high resolution, sound its very best.
Plug the Explorer into a Mac, Linux or Windows computer and experience quality far beyond that of any sound card. Explorer is a fully asynchronous, USB audio class 2 DAC for the ultimate in audio quality. With premium parts such as high quality filter capacitors, 6-layer pc board, and elegant all metal enclosure, the Explorer, which is hand assembled at Meridian's Cambridge factory, is engineered from the same DNA as Meridian's 800 series Reference products to ensure the very best sonic performance.
From its best-in-class audio performance to the elegant presentation packaging Explorer is the perfect introduction to the Meridian Experience, allowing users to discover more from their music.
Key Features
– 24bit/192kHz native conversion capability
– Separate low-jitter crystal oscillators for 44k1 and 48k based sample rates
– Asynchronous data transfer
– 6 layer PCB
– USB2 mini B socket – Plug and Play with MAC (Windows driver available)
– Direct-coupled outputs
– Variable line out – with analogue volume for headphones/powered loudspeakers
– Headphone amp
– Fixed line out – 3.5mm connects directly to audio system
– Optical digital output – full resolution for receivers or DACS (up to 96kHz)
– Elegant metal case – durable and increases audio performance
– Lights to indicate incoming sample rate
– USB cable provided 
– Hand assembled at Meridian's UK headquarters
The Meridian Explorer USB DAC has a MSRP of $299.00 U.S.  Look for more details at: www.meridian-audio.com.