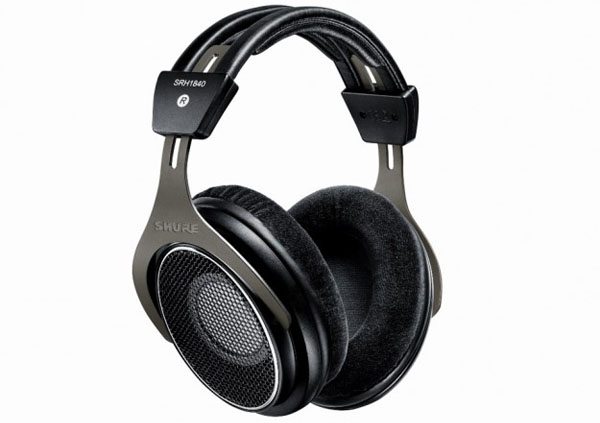 Shure has just expanded its headphone line with the addition of the company's first new open-back models – the SRH1440 and SRH1840 professional open back headphones.  These open-back models provide an alternate choice, designed for professional engineers who require a reference sound comparable to near-field monitors to achieve the best mix and production quality, and passionate audiophiles seeking an enhanced listening experience with professional sound quality. Leveraging superior sound, comfort, sleek design, and legendary Shure quality, the SRH1440 and SRH1840 are engineered to withstand the rigors of everyday use, while creating an exceptionally natural sound, wide stereo image, and increased depth of field. The open-back, circumaural design of the new SRH models enables sound to move more freely and with minimal distortion. This contributes to increased audio fidelity and a unique listening experience when compared to closed-back headphones. Customers will now engage in a more immersive listening experience, whether at home or in a professional mastering or post/editing studio.
The SRH1840 model features:
• Individually matched 40mm neodymium drivers for unparalleled acoustic performance with smooth, high-end extension
• Aircraft-grade aluminum alloy yoke and stainless steel grilles for enhanced durability and custom-crafted lightweight design
• Steel driver frame with a vented center pole piece to improve linearity and eliminate internal resonance for consistent performance at all listening levels
• Ergonomic dual-frame, padded headband is lightweight and fully adjustable for hours of listening comfort
The SRH1440 model features:
• 40mm neodymium drivers, to deliver full-range audio with rich, controlled bass and detailed highs in a sleek, attractive design
• Optimized impedance for a direct connection to a wide range of portable audio devices
• A premium-padded headband with a steel frame for a comfortable fit
Both models feature a dual-side detachable cable with Kevlar reinforced jacket and gold-plated MMCX connectors enabling secure connection and easy replacement. Other accessories include a storage case, replacement set of velour earpads, and an extra cable—promising years of uninterrupted listening enjoyment.
The SRH1440 and SRH1840 headphones are available now.
For more info, please visit www.shure.com.