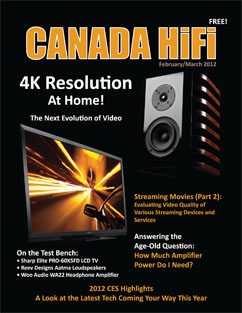 The digital edition of the February/March 2012 issue is now available in the Digital Editions section!
Features inside this issue include:
4K Resolution: The Next Evolution of Video
How Much Amplifier Power Do I Need?
2012 CES Highlights: A Look at the Latest Tech Coming Your Way This Year
Streaming Movies: An Alternative To Watching Movies From a Disc (Part 2): Evaluating Video Quality of Various Streaming Devices and Services
Reviewed inside:
Sharp Elite PRO-60X5FD LCD TV
Reev Designs Aatma Loudspeakers
Woo Audio WA22 Fully Balanced Transformer Coupled Headphone Amplifier
Click HERE to jump to the Digital Editions page
iPad/iPhone/iPod touch users – please open the CANADA HiFi App on your Apple device and you will now see this new issue on the home page of the App.  If you haven't downloaded the free CANADA HiFi App just yet, please do so from the App Store on your device.