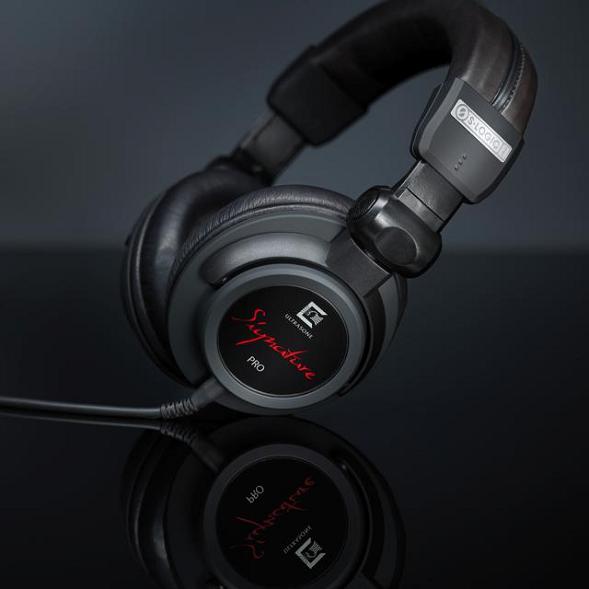 Ultrasone, has just introduced a new headphone product, their Signature PRO headphone. This is the first model in Ultrasone's new select range of headphone products that are "made in Germany". The new range will cater to the discerning music enthusiast as well as professional users.
The Signature PRO is a handcrafted headphone that utilizes patented technologies such as S-Logic Plus, with the intent of appealing to musicians, sound engineers and music enthusiasts. With a classic design and high-quality materials, the Signature PRO is intended to provide excellent performance with style that is inspired of Ultrasone's own Edition 9 headphones.
The Signature PRO uses a 40-millimetre titanium-plated sound transducer that has a frequency range of 8 Hz to 42 kHz. The decentralized arrangement of the sound transducers within the ear cup creates a pleasant spatial sound. Thanks to a 'broader' stereo platform, all signals in the panorama can be particularly well located. The S-Logic Plus technology that has been patented all over the world also ensures an outstanding depth of sound: this gives musicians and sound engineers a perfect feeling for their mix, and music lovers experience their favourite tracks exactly as intended by the respective artists. The closed design principle supports S-Logic Plus with a precise and present low frequency range.
The Signature glass nameplates on both ear cups are a visual highlight that blends harmoniously into the form of the headphones. The high-quality black leather and the special soft-touch coating ensure a pleasant, firm grip and are what give the Signature PRO its visual appeal.
Ultrasone has developed a new headband system that ensures comfortable listening even after long periods of use. In addition to special upholstery that follows the shape of the head, the ear-cup pads and head pad are covered with Ethiopian sheep's leather, which is said to enhance comfort and greatly increase durability. Weighing in at 300 grams, the Signature PRO is no heavier than conventional headphones.
Ultrasone has paid particular attention to the headphone cabling: thanks to a bayonet fastening on the left ear cup, the cable can be exchanged in a flash. The headphones come with two high-quality Neutrik connectors: a 1.5m cable with a 3.5mm gold-plated jack and a 3.0m cable with a gold-plated 6.3mm stereo jack.
Specifications:
• S-Logic Plus technology
• Dynamic principle, closed
• Frequency range 8 – 42,000 Hz
• Impedance 32 Ohm
• Sound pressure level 98 dB
• ULE technology, MU Metal bufferboard, field emission in accordance with ULE standard
• 40 mm titanium-plated driver
• Magnet: NdFeB
• Weight: 300 g
• Includes transportation case
• 2 detachable cords with B-lock connection:
– 3.0 m straight cable with gold-plated 6.3 mm Neutrik plug
– 1.5 m straight cable with gold-plated 3.5 mm Neutrik plug/angled
The Ultrasone Signature PRO headphones are available now for $1,299 U.S. and come with a storage case. Additional models in the Signature line are expected in 2012.
Look for more details on this product at: www.ultrasone.com.