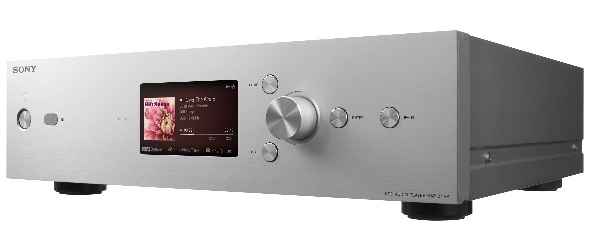 Sony Electronics has just introduced a range of high-resolution (Hi-Res) audio products.  These new products are part of Sony's line of home entertainment products and support playback for virtually all Hi-Res formats.
Sony's initial line-up of Hi-Res audio components includes three devices:
1. HAP-Z1ES Hi-Res HDD Music Player is a flagship ES (Elevated Standard) model that features a 1 TB hard disc drive and DSD re-mastering engine to convert and enhance virtually any music files to DSD (5.6M) quality. This player utilizes an Analog FIR filter, low-phase noise liquid crystal oscillator, large capacity twin transformers and much more.
2. HAP-S1 Hi-Res Music Player System with two-channel Class AB amplifier, which incorporates Digital Sound Enhancement Engine (DSEE) noise-shaping technology.
The HAP-Z1ES and HAP-S1 both enable synching of music files stored on a PC or Mac using supplied HAP Music Transfer software and the devices can be controlled with a free HDD Audio Remote app for both Android and iOS devices.
3. UDA-1 USB Hi-Res DAC System is a 2-channel (2 x 20 watt) amplfifier that incorporates an asynchronous USB connector and is compatible with virtually every PC-based music player application, including iTunes, Windows Media Player, KORG Audio Gate, and Media Go. In addition, the UDA-1 supports coaxial, optical and analog inputs.
Receiver Hi-Res Firmware Upgrade: This fall, owners of Sony's STR-DA2800ES and 5800ES receivers will gain high-resolution playback via a firmware upgrade that provides access to high-resolution audio files through the integrated USB input.
Hi-Res Loudspeakers: Sony will be launching two speakers that are optimized for high-resolution audio and optimized for the HAP-S1 and UDA-1 products. The SS-HA1 and SS-HA3 use a wide-dispersion W-super tweeter to complement high band energy from high resolution music sources.
Hi-Res Headphones: A new line of high-resolution headphones is set to be introduced, including: the XBA-H3 ear bud headphones, MDR-10R and MDR-10RBT over the ear headphones.
All Sony Hi-Res devices are capable of playing back virtually any file format – form MP3s to the latest 5.6 DSD files.  Details, including pricing and availability on these Hi-Res products is as follows:
Sony HAP-Z1ES 1TB Hi-Res HDD Music Player
•Stores, plays back and decodes virtually all Hi-Res audio formats
•Built-in 1TB hard drive with expandable storage
•Front panel LCD and HDD Audio Remote mobile app (Android and iOS) for browsing and playback
•Supports virtually all Hi-Res formats including: PCM (44.1kHz/ 48kHz/ 88.2kHz/ 96kHz/ 176.4kHz /192kHz in 24 bit depth); DSD (DSF, DSDIFF); MP3, WAV, WMA, AAC, FLAC, ALAC, ATRAC, ATRAC ADVANCED LOSSLESS, AIFF
•DSD Re-mastering Engine upscale music files to DSD(5.6) quality
•DSEE restores missing data from compressed files
•HAP Music Transfer software compatible with both Windows and Mac computers for automatic copy of music files to HDD when new files are added on computer
•Available Fall 2013 for $1,999 U.S. in silver
Sony HAP-S1 Hi-Res Music Player System
•Stores, plays back and decodes virtually all Hi-Res audio formats
•Built-in 500GB hard drive with expandable storage
•Front panel LCD and Mobile apps (Android and iOS) for browsing and playback
•2-channel Class AB amplifier (40 Watts x 2)
•Supports virtually all Hi-Res formats including: PCM (44.1kHz/ 48kHz/ 88.2kHz/ 96kHz/ 176.4kHz /192kHz in 24 bit depth); DSD (DSF, DSDIFF); MP3, WAV, WMA, AAC, FLAC, ALAC, ATRAC, ATRAC ADVANCED LOSSLESS, AIFF
•DSD Re-mastering Engine upscale music files to DSD(5.6) quality
•DSEE restores missing data from compressed files
•HAP Music Transfer software compatible with both Windows and Mac computers for automatic copy of music files to HDD when new files are added on computer
•Available Fall 2013 for $999 in black or silver
Sony UDA-1 USB Hi-Res DAC System for PC Audio
•Allows enjoyment of Hi-Res music as well as conventional compressed music restored by DSEE technology
•2-channel 20 amplifier (20 Watts x 2)
•Supports virtually all Hi-Res formats including PCM (44.1kHz/ 48kHz/ 88.2kHz/ 96kHz/ 176.4kHz /192kHz in 24 bit depth); DSD (DSF, DSDIFF); MP3, WAV, WMA, AAC, FLAC, ALAC, ATRAC, ATRAC ADVANCED LOSSLESS, AIFF
•Compatible with virtually every PC music player application, including iTunes, Windows Media Player, KORG Audio Gate, and Media Go
•USB connectivity to PC (USB-A x 1 and USB-B x 1)
•Multiple connection terminals include Optical in, Coax in, and Analog RCA in, with RCA analog out and Headphone out
•Available Fall 2013 for $799 in black or silver
Sony SS-HA1 Hi-Res Speaker
•Wide Dispersion (WD) W-Super Tweeter complements high band energy for high resolution music sources
•Mica Reinforced Cellular (MRC) fiber for supremely light and extraordinarily rigid woofer cones, producing exception musical transients that are clear and with minimal distortion
•Baffle shape for diffraction effect reduction
•Rigid aluminum body for optimized sound
•Available Fall 2013 for $599 / pair in black
Sony SS-HA3 Hi-Res Speaker
•Wide Dispersion (WD) W-Super Tweeter complements high band energy for high resolution music sources
•Baffle shape for diffraction effect reduction
•Rigid aluminum body for optimized sound
•Available Fall 2013 for $349 / pair in black
Sony MDR-10R Headphones
•High resolution capable, featuring 40mm driver units that deliver a balanced, highly accurate reproduction of today's up-front vocals, mid-range details, as well as rich, powerful lows and extended highs
•High-definition HD driver assures ultra-wideband audio performance extending from 5Hz to 40kHz matching today's high resolution music sources
•Designed for hours of comfortable listening, with pressure-relieving ear cushions that provide a supportive, wrap-around feel, as well as a highly effective acoustic seal, further reinforcing the headphones' powerful sub-bass reproduction
•Detachable cable provides an innovative design that eliminates friction between cable surfaces and reduces the source of frustrating tangles. A smartphone cable with microphone and remote is also included, to easily switch from music to calls.
•Available in October for $199.99 in black and white
Sony MDR-10RBT Headphones
•High resolution capable (with wired connection), this Bluetooth® headset brings the same innovative sound processing technologies to music lovers who demand the ultimate in sound quality without wires
•Incorporating Near Field Communication (NFC) technology, the new MDR-10RBT eliminates the cumbersome process of pairing and connecting. Users can simply tap an NFC-enabled smartphone or tablet to the MDR-10RBT Bluetooth® headset to instantly stream high-quality music or crystal-clear phone calls via Bluetooth
•Stream music wirelessly from iPhones® and iPads® as well as Android™ smartphones and tablets that are not NFC equipped
•Support AptX and AAC codecs to ensure higher quality sound while streaming wirelessly
•Up to 18 hours of battery life between charges, though can also be used as standard headphones without the battery
•Available in November for $249.99 in black
Sony XBA-H3 Ear Bud Headphones
•High resolution capable, featuring dedicated high-definition hybrid three-way driver unit (16mm dynamic driver unit and two Balanced Armature driver units) for music enjoyment throughout all frequencies
•Driver unit delivers radiant highs and deep, bellowing bass, including even the most subtle musical nuances
•Rigid, yet responsive Liquid Crystal Polymer Film diaphragm provides the needed rigidity and internal loss for balanced and highly accurate sound reproduction
•Smartphone cable with microphone and remote is also included, to easily switch from music to calls
•Available in December for $349.99
For more information, go to: www.sony.com