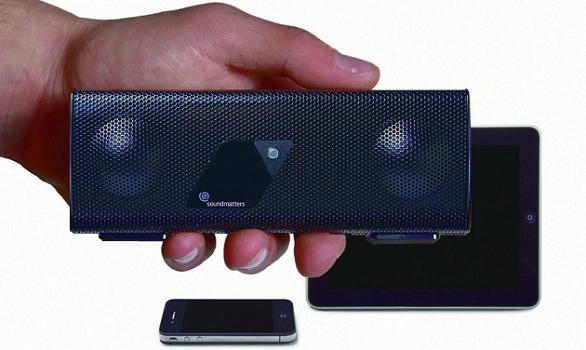 Soundmatters, founded by former NASA engineer/audio legend Dr. Godehard Guenther, has just announced a holiday sale for the foxLv2 purist non-Bluetooth ultimate portable. The foxLv2 will be discounted from Cyber Monday, November 28 up to December 31, 2011. The foxLv2 is a very compact – pocket sized – portable stereo speaker that has been designed to provide quality sound. The foxLv2 can connect to portable devices via an included audio cable.
The foxLv2 Bluetooth was just reviewed by Canada HiFi – see the latest holiday edition:
https://novo.press/digital_edition/CHF36de/a36de.html
The foxL's utilize patented "Twoofers," "BassBattery," and other technologies that provide smoother deeper bass and an "open & airy" listening experience. The foxLv2 now offers up to 12 hours (or more) of battery life, using a lithium-ion USB rechargeable battery. The foxLv2 makes a great companion for Kindle Fire, iPad, or other portable devices, given its small size of 5.6" wide x 2.2" high x 1.4" deep. The foxLv2 provides audio output from 80Hz – 20kHz. In addition, there is an output to connect an optional subwoofer.
The foxLv2 comes with the portable speaker, re-chargeable built-in woofer/battery, universal AC power charger, four international charger adapters (for US, Japan, Europe/China, UK/HK, and AU/NZ), USB computer charging cable, stereo 3.5mm audio cable, wrist strap, travel pouch, anti-slip mat, and manual. An optional bike mount is also available.
The foxLv2 is priced at $149 U.S. from November 28 until December 31, 2011 (normally priced at $199 U.S.). A wireless Bluetooth version with speakerphone capability, the foxLv2 Bluetooth, is specially priced at $199 U.S. (normally $249 U.S.)
Look for more details at: www.soundmatters.com.