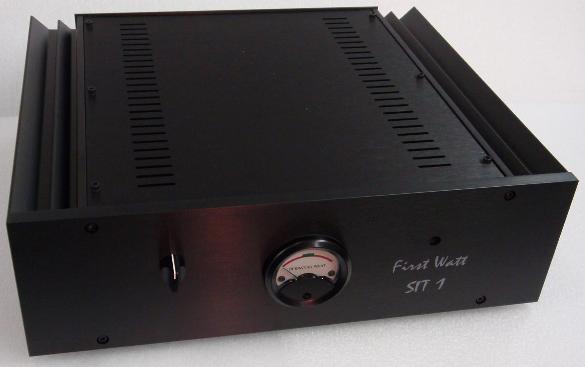 First Watt is a Nelson Pass, of Pass Labs fame, audio product company that focuses on amplification products.  First Watt's aim is to provide high performance amplificaiton products that don't fit into the traditional commercial product line-up, such as amplifiers with under 25 wpc output.  Two amplifiers have just recently been released – the SIT-2 and SIT-1.
The SIT-2 was shown this month at two audio shows in Japan. This stereo amplifier delivers audio with single-stage single-ended Class A operation with zero-feedback and zero-degeneration. The SIT-2 outputs up to 10 wpc / 8ohms or 8 wpc / 4 ohms.
The SIT-1 also made its first appearance in Japan this month. The SIT-1 is a mono-block version of the SIT-2, also employing a single-stage zero-feedback zero-degeneration design and having the same wpc rating as the SIT-2.
The SIT is the only semiconductor in the circuit, surrounded only by resistors and capacitors. It features a user adjustable operating point which helps to optimize the performance for individual loudspeaker characteristics.
Both the SIT-1 and SIT-2 are now in production and are expected to be available for purchase in January 2012. Pricing is yet to be announced.
Look for more details at: www.firstwatt.com.