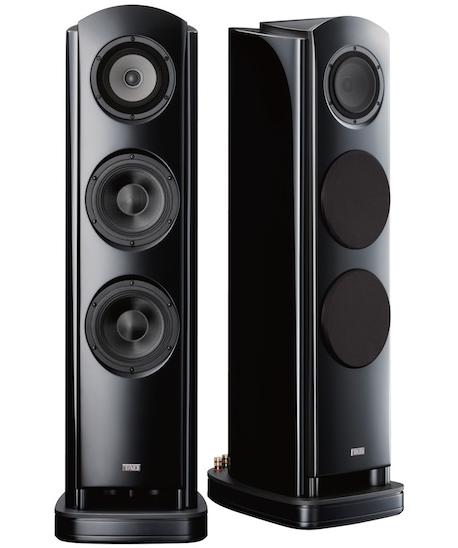 Technical Audio Devices Laboratories (TAD) has announced the realease of their new TAD-E1 (Evolution One) floor standing loudspeaker. The TAD-E1 has been designed and engineered entirley in-house by Director of Engineering Andrew Jones and an international team of audio engineers, artists and craftsmen.
As the first-ever loudspeaker in the Evolution Series, the TAD-E1 joins the ranks of fellow Evolution Series products, consisting of the C2000 Preamplifier and the M2500 and M4300 Power Amplifiers.
For highly improved imaging and a more consistent sound throughout an entire listening room, TAD's Coherent Source Transducer (CST) was designed with the tweeter diaphragm mounted concentrically within the midrange cone. This design provides a point source of sound from 250 Hz to 100 kHz, enabling matched arrival times of midrange and tweeter sounds.
In order to efficiently produce accurate high frequencies, beryllium is used for its highly rigid and extremely light-weight properties. A special vapor-deposition process ensures the tweeter produces audio that is well controlled and plays above the range of audibility. Combined with the tweeter's response, a magnesium midrange diaphragm is used for its stiff, low mass and durable properties resulting in truthful response with low coloration.
The TAD-E1's woofer uses a one-piece dustcap/cone construction that eliminates the loss of strength frequently found in conventional woofer cone construction. The technique increases the strength and virtually eliminates weak points on any part of the cone. The cone construction is further strengthened by using multiple layers of aramid fibers to provide low mass with high rigidity to resist back pressure from the cabinet.
To prevent ringing or resonance from the speaker cabinet, TAD uses high–rigidity Baltic birch plywood combined with medium density fiberboard (MDF). The enclosure is also designed with a "teardrop" shape rear section that further reduces unwanted cabinet resonance due to the improved stiffness of curved panels.
The TAD-E1 incorporates a network filter that is mounted outside of the main enclosure. The design mechanically and acoustically isolates the filter to ensure maximum resolution.
The TAD-E1 is available this month, February 2012, at a MSRP of $29,800 U.S. (pair).
Look for more details on this product at: www.tad-labs.com.