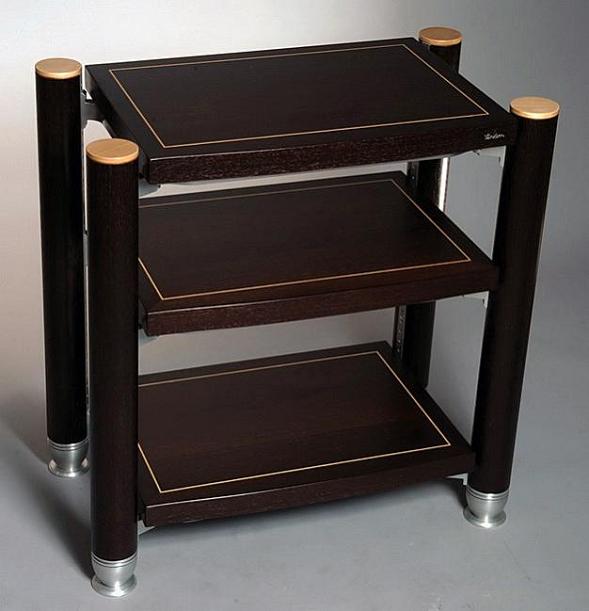 Aaudio Imports, has just introduced Tandem-Audio's Reference Series Equipment Racks to the North American market. There are six racks in the Reference Series, each are fully adjustable, vibration-free and entirely handmade. The racks have been designed to be easily assembled and levelled and are available in single and double-wide formats as well as in a variety of sizes and wood veneers.
Tandem-Audio calls its shelving technololgy, the Metal Manipulating Vibration System. While resembling a single slice of wood resting in a metal frame, each shelf is actually a complex construct of handcrafted wood veneers around a vibration-absorbing core framed in a cast aluminum alloy electrostatically painted silver-gray. Reference System shelves measure 27.5 inches wide by 19.7 inches deep, by just under 3.5 inches high, and support up to 220 lbs.
The shelf core is an aluminum-plywood sandwich filled by a layer of 3.22-inch wood cubes that are hand glued together. An aluminum plate immersed in a low-inertia metal filling is embedded inside each shelf, and hand-applied veneers encapsulate the whole. The wood cubes absorb ambient vibrations and transfer them to the aluminum plate and metal filling, which lower their resonant frequency out of acoustic range. The racks' support columns are made of the same aluminum alloy as the shelf chassis, and are veneered to resemble solid wood posts.
Reference System veneers can be custom selected to attractively complement any residential environment. Available woods include African and American walnut, dibetou, mahogany, makore, beech, maple and wenge, as well as exotic varieties like ebony and palisander, and special custom offerings.
Reference Series Racks are currently available through Aaudio Imports at the following MSRP:
 Single-width systems:
$9,200 U.S. for a 2-shelf
$12,500 U.S. for a 3-shelf
$15,800 U.S. for a 4-shelf
Double-width systems:
$11,100 U.S. for a 2-shelf
$14,100 U.S. for a 3-shelf
$17,100 U.S. for a 4-shelf
 For further information, visit Aaudio Imports' website at: www.aaudioimports.com.