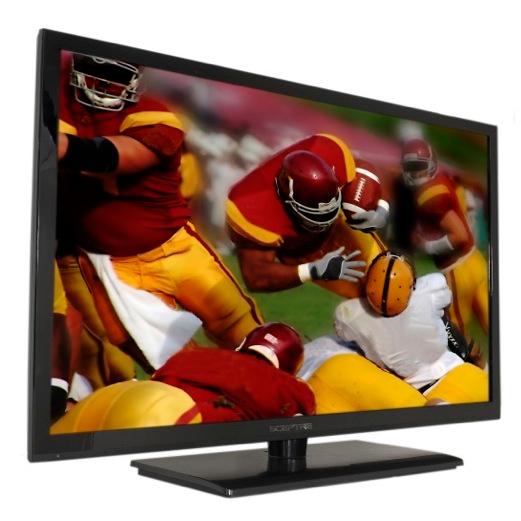 Sceptre has just released their new E425BV-FHDD 42-inch LED 3D HDTV.  The new E425BV-FHDD utilizes passive 3D glasses (2 pairs included), which is claimed to eliminate the eye strain and headaches typically associated with active 3D setups.  Passive 3D glasses, do not require recharging or battery replacement and are therefore, typically lighter and cheaper to produce.
The new 3D HDTV has a glossy black finished enclosure and can swivel up to 60 degrees.  The 42-inch TV is wall mountable, as well. 
Sceptre claims that this new product switches between 2D and 3D programming without any loss of quality.
The new 3D HDTV is Energy Star 5.3 compliant, the highest current effective rating according to the U.S. Environmental Protection Agency and the U.S. Department of Energy, and has an estimated LED backlight life of over 50,000 hours, resulting in superb efficiency and costs savings.
Features:
Active Screen Size: 42″
Aspect Ratio: 16:9 Widescreen
LED Backlight Life: 50,000 Hours
Frame Rate: 60 Hz
Brightness: 360 cd/m2 (2D mode), 160 cd/m2 (3D mode)
Contrast Radio: 3,5000:1 (typical)
Resolution: 1920 x 1080
Response Time: 6.5 ms
Signal Compatibility: 1080P, 1080i, 720P, 480, 480i
Built-in Speakers: 10 watts per Channel x 2
Ports: 5 HDMI, 1 USB
Weight: 32 lbs with stand
Additional Characteristics:
3D Comb Filter and De-Interlace Technology
Auto Dynamic Contrast Enhancer
Surround Sound with Sound Equalizer
Automatic MPEG Noise Reduction
Wall Mountable 400x400mm
The Sceptre E425BV-FHDD is available now for $799 U.S. More details to be found at: www.sceptre.com.