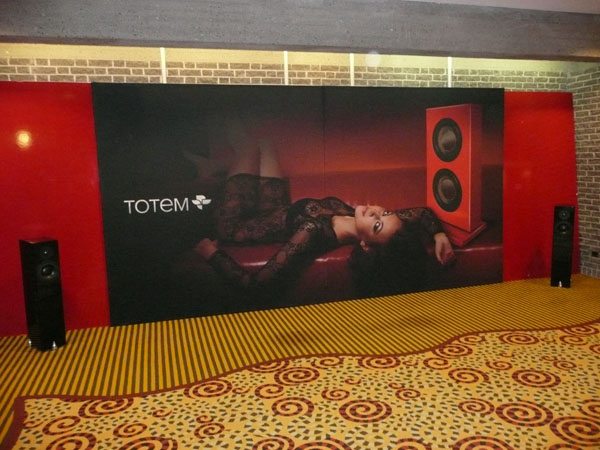 Just over a week ago we shared with you our initial coverage of the Salon Son et Image 2012 which took place in Montreal at the end of March.  You can read this article by clicking HERE.  Below we continue our exploration of the Salon Son et Image show floor through pictures and short descriptions.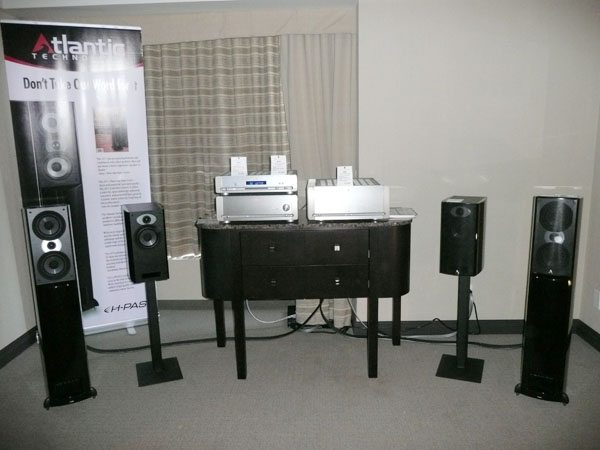 The first room that I visited at the Salon Son et Image 2012 was shared between Atlantic Technology and Parasound.  Atlantic Technology demonstrated two new speaker models this year:  the AT-2 bookshelf ($1,800) and the AT-1 floor-standing ($3,000).  Both speakers utilize a 2-way, H-PAS (hybrid pressure acceleration system) enclosure design.  The price points for both these new models are very reasonable and given their sound I could easily recommend them for any budget audiophile system.  The electronics inside this room provided a very clean and pleasant sound.  It consisted of the Parasound A 21 power amp (250 watts x 2 @ 8 ohms, $2,599), JC 2 preamp ($4,529) and CD 1 CD player ($4,999). www.atlantictechnology.com; www.parasound.com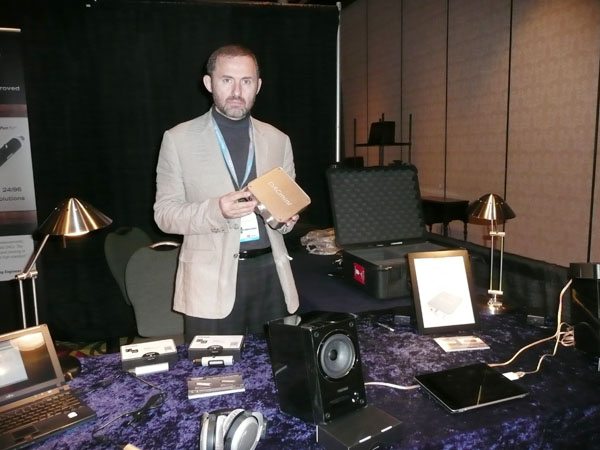 Have you ever thought about an audiophile system that's not only good for your computer desktop but also good to travel with?  Well, that's exactly what a company called CEntrance showed us this year at SSI.  The CEntrance AudiophileDesktop consists of a pair of MasterClass 2504 desktop 2-way coaxial speakers and the DACmini PX desktop amplifier (which has a built-in DAC).  This complete package retails for ($2,000 US).  I was very impressed to see the protective carry case that holds the speakers and DACmini PX inside – it is just the right size to fit in an airplane's overhead compartment.  The MasterClass 2504 speakers use one 4 inch coaxial transducer in a ported box and can be purchased separately for $800 US.  CEnterance also offer a compact product called the DACmini CX which is a DAC with a built-in headphone amp ($795 US).  The DACmini PX offers all the same futures as the DACmini CX plus an integrated amplifier for use with speakers ($1,475 US).  www.centrance.com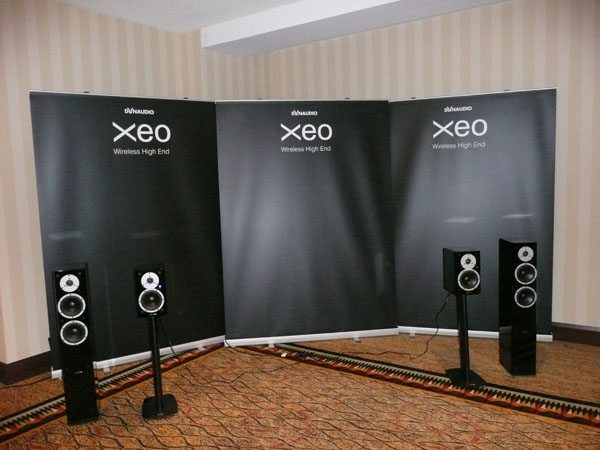 Danish speaker manufacturer Dynaudio got everyone excited about a new line of wireless powered speakers that the company demonstrated at this year's SSI.  The new Xeo speaker line consists of two models – the bookshelf Xeo 3 ($2,300/pair) and the floor standing Xeo 5 ($4,500/pair). Both speakers have an active design, with amplifiers and DSP (digital signal processing) built into the speaker cabinets.  The Xeo 3 features one tweeter and one mid/bass driver, while the Xeo 5 adds an additional mid/bass driver.  Power ratings for both models are identical – the tweeter is rated at 50W and the mid/bass driver is rated at 50W.  The Xeo transmitter, positioned together with your audio system, can accept up to four different sources ranging from an iPhone to a turntable (both analog and digital inputs are provided).  Audio is streamed at 16 bit / 48 kHz directly from the transmitter to the speakers, without the need of a wireless home network.  A supplied remote allows for easy switching of sources.  The sound emanating from the Xeo speakers was clean, detailed and natural.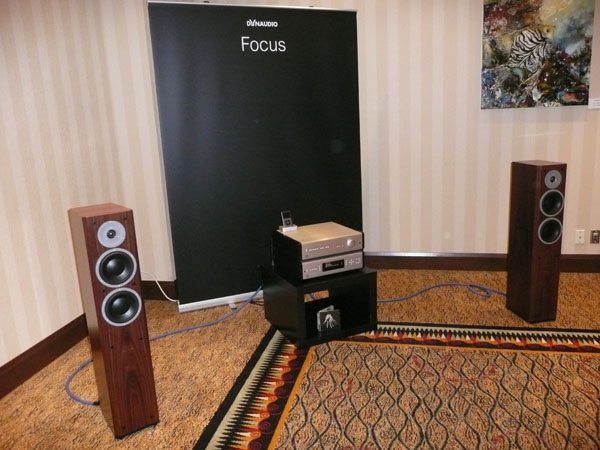 A couple of new models from the Focus line were also shown in the Dynaudio room including the 260 ($4,900/pair) and 160 ($2,900/pair).  Both models claimed to be more musical then earlier models thanks to their new driver design.  Unfortunately I did not get to listen to them as they were not connected while I visited the room.  www.dynaudio.com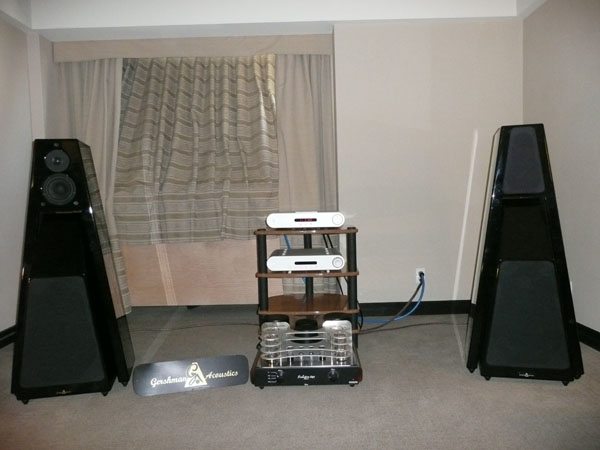 Although Canadian speaker Gershman Acoustics didn't demonstrate any new products this year, the company did have its top of the line Black Swan speakers on demonstration ($42,000/pair) for visitors.  The electronics in the room included the Evolution S45 tube integrated amplifier ($16,000) and the Stello CD player ($3800).  I've listened to the Black Swan speaker over the few years at different shows and I have to say that it is build for a much bigger room than it was situated in but they sounded quite good.  I also know that these speakers can sound very different with power full solid-state amplifiers.  www.highendloudspeakers.biz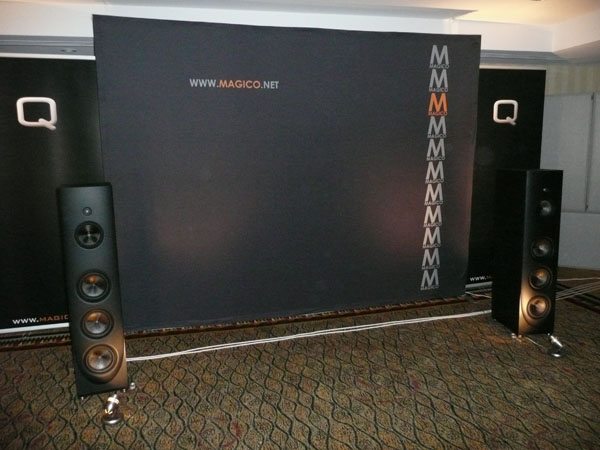 Magico is a speaker manufacturer that has been around for about a decade now and is one of very few speaker manufactures that uses aluminum enclosures for its speakers.  I've listened to Magico speakers at different shows over the last several years and can say with confidence that the company produces very fine quality speakers.  This year at SSI, Magico revealed its new Q3 floor standing speaker ($38,950).  The Q3 has a 3-way design and offered a fantastic sound with a great soundstage.  Its compliment of drivers consists of three 7 inch woofers, one midrange driver and one 1 inch tweeter.  Completing the sound in this room was a Constellation Audio Virgo preamp ($19,000) and the Centaur power amplifier ($24,000).  www.magico.net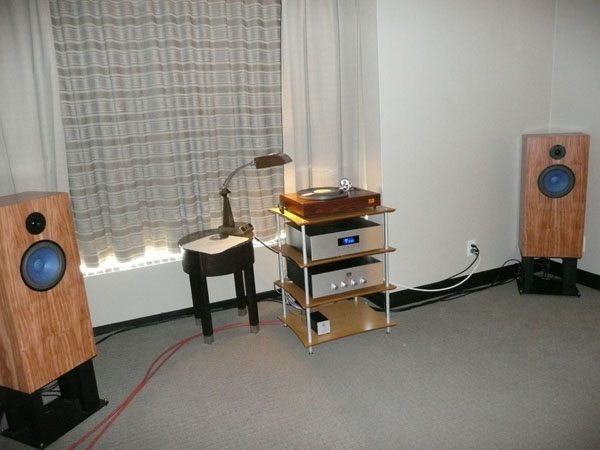 Audio Note from the U.K. had a simple but interesting room at SSI this year.  This company produces a wide range of products including turntables, digital sources, amps, preamps and speakers just to mention a few.  Audio Note also offers a selection of very high quality tube gear kits which were shown at TAVES last year.  At the Montreal show, I was lucky enough to check out its AN-TT Two Deluxe turntable ($3680) – this turntable has been in production for about a year now but it was shown for the first time in Canada at SSI.  The AN-TT Two Deluxe two motor model with a three-point suspended sub chassis and an acrylic platter.  The sound in this room was so good that I sat down and enjoyed it for a while.  On the digital side, Audio Note demonstrated its top-notch single-box CD-4.1x CD player ($12,000)and a very impressive 10 watt class A, parallel single-ended TOSE amplifier ($6500).  The sound makers in the room were the high efficiency AN-E (SPe/HE) speakers ($9600/pair). www.audionote.co.uk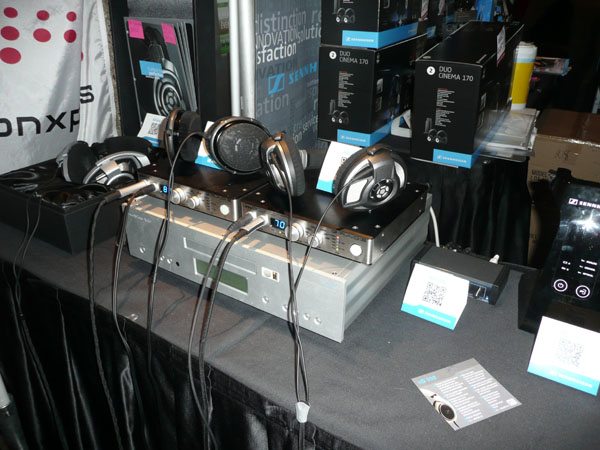 I must admit that I am not much of a headphone guy myself but high quality headphones and headphone amps have become very popular product categories.  Sennheiser is a German headphone/earphone manufacturer that is been in business for over 50 years.  Among the various products that the company demonstrated at SSI this year was a headphone set called the Duo Cinema designed for home theatre applications.  What you get in the box are two sets of HDR 170 wireless headphones as well as the base ($599).  Two other new products for this year included the HD 700 (price not yet set) and HD 598 ($379) headphones.  The HD 598 model offered plenty of bass performance and felt very comfortable on my head – for $379 these appear to be a great deal.  www.sennheiser.com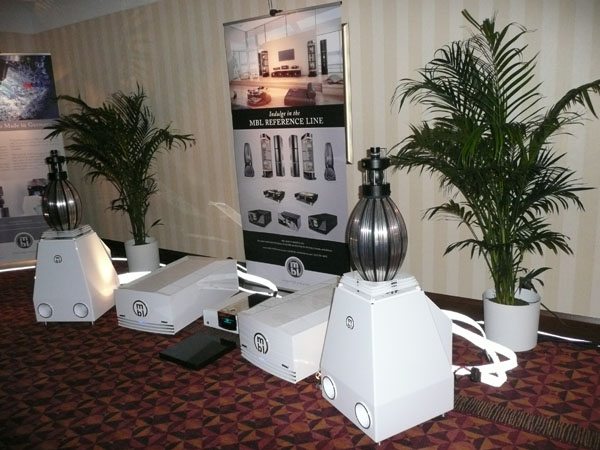 mbl is a Germany manufacturer that produces some of the finest speakers and audio components in the world, using only the highest quality parts available. mbl products are distributed in North America by mbl of America.  I have been interested in omni-directional speaker designs for some time now and the mbl speakers in this room indeed peaked my interest.  When I first entered the room, the system being demonstrated consisted of the Reference line speakers and components, totaling a whopping $259,700.  The sound was nothing shy of remarkable, exciting my hearing senses to the highest level.  I paid a second visit to this room later in the day got a chance to listen to the company's entry-level speakers and components.  The combination of the Corona line of electronics and the brand new MBL126 speakers ($11,800/pair) offered an outstanding sound stage.  www.mbl-usa.com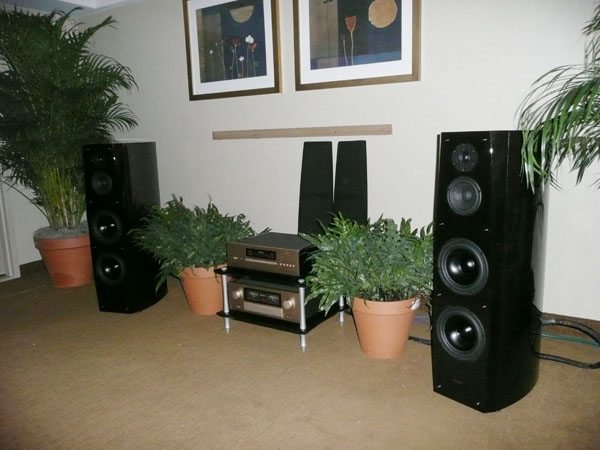 The Sony room must have been one of the busiest rooms at SSI this year – there seemed to be a big line-up of eager visitors outside the room at all times.  It also turned out to be one of my favorite rooms and I wished that I had enough time to sit down in this room for an extended listening session with one of my own CDs.  However I spent just enough time here to realize the performance capabilities of the new Sony SS-AR1 floor standing speaker ($27,000).  The SS-AR1 is a 3-way, 4-driver speaker which combines a 1-inch soft-dome tweeter, a 5-inch sliced-paper cone midrange and two 8-inch aluminum-cone woofers. It uses a vented enclosure that's made out of laminated Hokkaido maple that's harvested only in November.  The Accuphase electronics in this room included an integrated amplifier and CD player.  The sound was very natural, offering a great level of detail and dynamics.  In my opinion this speaker offered a much better performance than many other speakers in this price range.
And that's it for this year's coverage of Salon Son et Image!  Next up on the Canadian show circuit is the 2012 Toronto Audio Video Entertainment Show (TAVES) coming this September.  For more info about TAVES, please visit www.taveshow.com.