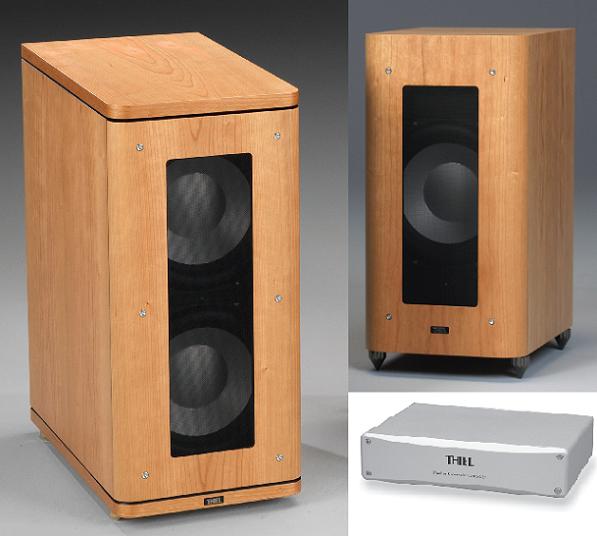 Thiel Audio, will be unveiling its latest incarnations of its SmartSub powered subwoofer products at CES, in January 2012.
The subs now utilize new amplifier topology for improved performance and reliability and carryover boundary-compensation circuitry from previous model that is said to optimize response based on the subwoofers' distance from rear and side walls.
The updated entry-level USS sub now includes Theil's thermal compensation circuitry. This circuitry is claimed to eliminate thermal compression distortion and was previously only available on higher models. The amplifiers in both the USS and SS2.2 are high-efficiency switching power supply analog amplifiers.
The USS features proprietary 10-inch aluminum woofer boasting long excursion and low distortion. The SS2.2 uses two of the same 10-inch woofers.
The USS delivers 99dB of output at 20 Hz and 106dB at 30Hz, while the SS2.2 ups the ante a bit by delivering up to 105dB at 20Hz, and 112dB at 30Hz.
The USS will be available in natural cherry, dark cherry and black ash and the SS2.2 will be available in a full selection of standard and custom hardwood veneers with stainless-steel hardware and heavy duty spikes borrowed from THIEL's flagship CS3.7 loudspeaker.
These subwoofers will optimally work in conjunction with Theil's companion PX05 passive crossover module. The PX05 module is custom-made for use with different Thiel speakers to adjust the subs' response to the natural frequency response and bass roll-off of different Thiel full-range speakers. The module is designed to extend speaker system bass response down to 20Hz and provide increased bass detail without loss of impact.
The new 500-watt USS subwoofer carries a MSRP of $3,490 U.S., while the 1,000-watt SS2.2 has a MSRP of $6,390 U.S. The optional PX05 crossover module is $500 U.S. All models are expected to begin shipping in mid-January 2012.
Look for more details on these subwoofer products at: www.thielaudio.com.