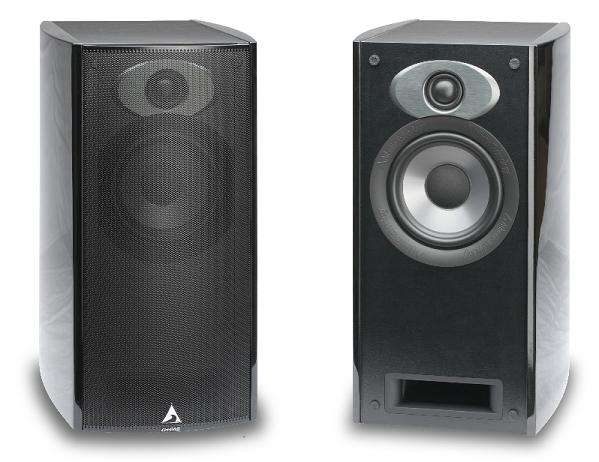 Atlantic Technology has just begun shipping its new AT-2 compact bookshelf loudspeaker that utilizes their proprietary H-PAS bass technology.
H-PAS technology allows a smaller enclosure to produce higher bass levels at lower distortion than conventional designs and is different than existing acoustic suspension, reflex and transmission line designs. This technology is already used in Atlantic Technologies AT-1 floor-standing speaker.
The AT–2 stands at under 16 inches tall yet delivers bass response down to 41 Hz at -3dB, using a single 5-1/4-inch long-excursion woofer.
For high-frequencies, a 1-1/8-inch Low Resonance Tweeter (LRT) is utilized, which is the same as their AT-1 floor-standing speaker. A low crossover frequency of 2,200 Hz, allows for wider horizontal midrange dispersion. Additionally, the aluminum rear chamber functions as a very effective heatsink to keep the tweeter cool, even though it's receiving a significantly higher drive current than a conventional tweeter would with a 3000-4000 Hz crossover. The tweeter's oversized 4 mm textile surround allows for long excursion, and very high power handling.
All the AT-2's crossover components adhere to strict 1-percent value tolerances to ensure the best sound possible. The cabinet is heavily braced for rigidity and acoustic inertness. Engineers used advanced cabinet accelerometer measurements, coupled with exhaustive listening evaluation, to finalize the bracing design. The cabinet dimensions are 8-3/4 inches wide by 15 5/8 inches high 12-1/4 inches deep (222 x 396 x 310mm).
The metallic speckle gloss black paint process is quite similar to that used in the automotive industry. It is a multi-layer finish, with the "sparkles" being in the middle, under 2 or 3 layers of clear-coat finish. The bottom panel of the speaker has a standard ¼-inch threaded insert to secure it firmly onto better audiophile speaker stands that use a through-bolt in their bottom plate.
The Atlantic Technology AT-2 loudspeakers are currently available at a MSRP of: $1800 U.S. per pair.
For more information on the AT-2 see: www.atlantictechnology.com.