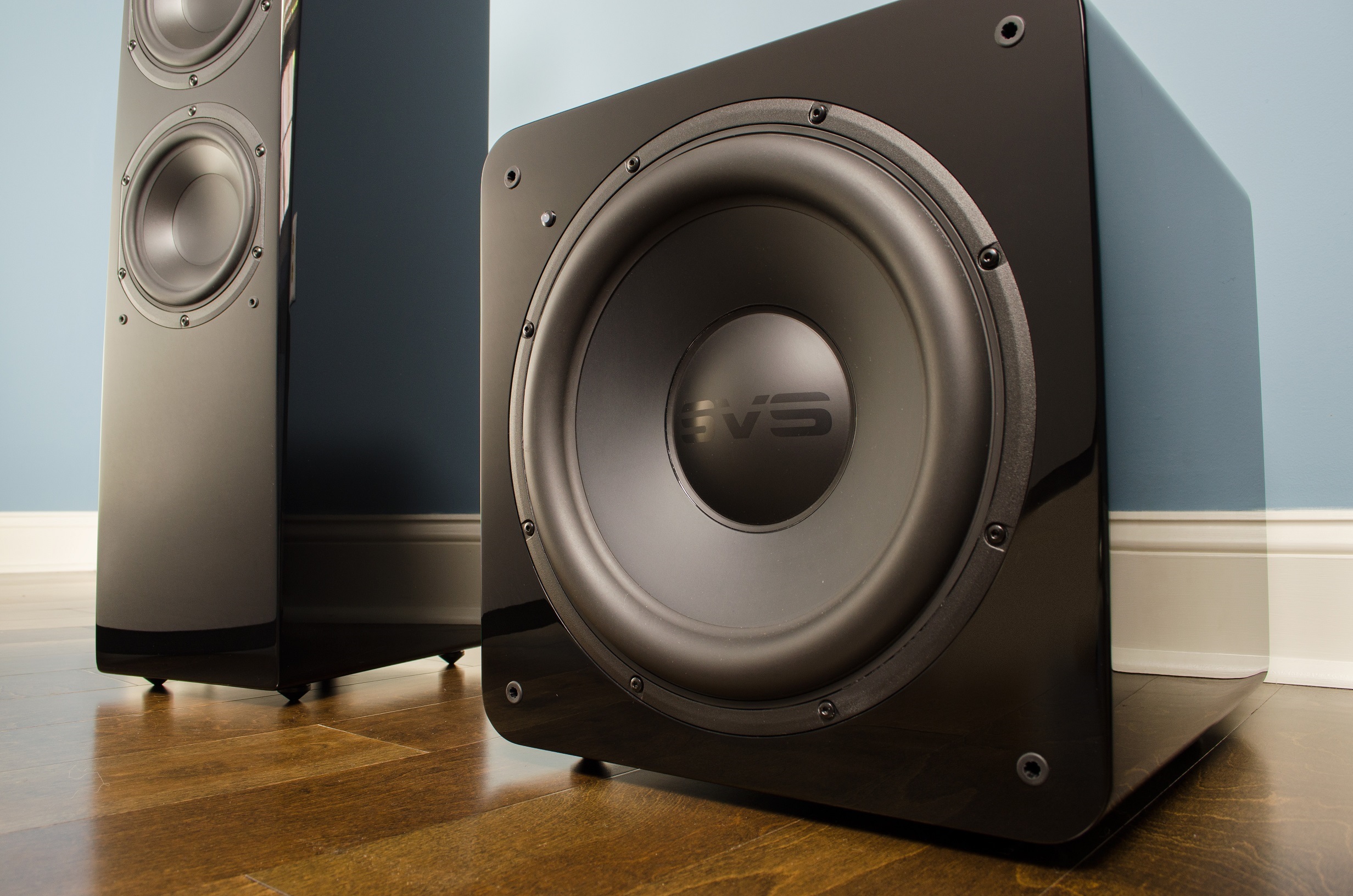 Placement of subwoofers is a process driven by competing variables that differ in every home. Décor, floor space, furniture, speaker placement, seating location, and of course, sound quality all factor into the decision of where a subwoofer should be placed. If you have flexibility, there's an artistry to subwoofer placement that can be aided by understanding some basic acoustic principles and set-up techniques.
To help you with subwoofer placement in a 2.1, 5.1, 7.2.4 or any other audio set-up, the Sound Experts at SVS offer these – 5 Tips for Finding the Best Location for Your Subwoofer(s):
• Try a Front Corner First – Corner placement generally does the best job of exciting all possible room modes, resulting in a denser wave pattern in the room. While this can often make for hugely impactful bass, it can sometimes result in a "boomy" sound depending on your listening position.
• Do the Subwoofer Crawl – If you still find excessive peaks or nulls in your listening position, you can set-up a subwoofer in the prime listening spot in your room, literally the exact spot you would normally sit when listening to your system. Then play a recurring bass line or test signal and crawl around so your ears are at the same level as the subwoofer would be. Wherever the bass sounds best during your crawl is the best location for your subwoofer. For a more detailed description, please visit the SVS art of subwoofer placement tutorial.
• Use EQ to Fight Dead Spots – Many AV receivers offer auto-EQ for all speakers, including the subwoofer and will automatically adjust output for standing waves or room anomalies. If not, there's several affordable external EQ systems available for shaping your subwoofer's performance to accommodate your room.
• Consider Going Dual – Two small subwoofers can be easier to place than a single larger subwoofer in many rooms. You also get the advantage of increased sound wave density in the low end and a smoother frequency response at more listening positions in the room. Plus, two subwoofers will not have to work as hard for the same acoustic output as one larger subwoofer.  
• Be Flexible With Listening Location – If your situation only allows for the subwoofer to reside in a single location with no compromises, that's OK. Sometimes moving seats just a few feet can make a big difference and move your ears out of a peak or null and into a neutral sounding location.
Once you've decided on a location, many subwoofers have sophisticated DSP amplifiers that allow you to optimize the in-room performance with incredible precision. If you are interested in a deeper dive into Subwoofer DSP, check out this SVS Sound Experts blog post: Understanding DSP – Unlock the Full Power of Your Subwoofer.
If you're ready to experienced deep, accurate, mood altering bass, SVS offers sealed and ported subwoofers in a range of sizes and finishes, for all home theater and audiophile set-ups.