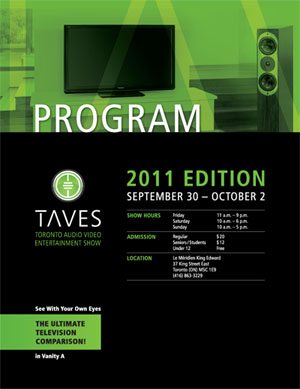 With the TAVES less than 2 weeks away the anticipation for the show is nearing its peak!
The official 2011 TAVES Program has just been posted on the home page at www.taveshow.com.  The program contains exhibitor information, lists the room number in which each brand will be located and shows TAVES floor plans. It also contains information about our seminars and music performances. To jump directly to the TAVES Program click here to view the DIGITAL EDITION or here to view the PDF.
And don't forget that we're giving away a number of tickets to CANADA HiFi readers! To qualify simply 'Like' the CANADA HiFi Facebook page and leave us a comment saying what excites you the most about TAVES! The chances of winning a ticket are very high so please take a moment to do this – it's worth registering for a free Facebook account even if you don't have one!
Click here to 'Like' the CANADA HiFi page:
www.facebook.com/canadahifi
I sincerely hope that many CANADA HiFi readers will make it out to the show!
Regards,
Suave