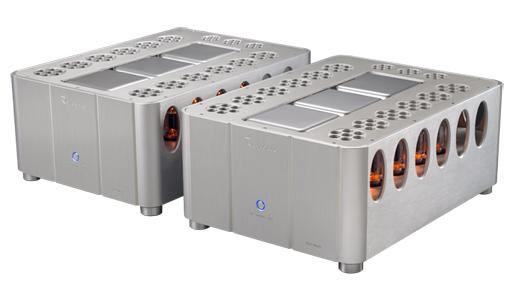 Raysonic has just launched their new Supreme Series with the introduction of their new Red Maple monoblocks amplifiers. Priority in circuit design was given to achieving low noise and distortion with a wide band frequency response. KT88 power tubes were chosen in combination with a Class-AB1 ultra-linear push-pull power amplification stage.
In addition, five pairs of KT88 beam power tubes are leveraged to generate an output power of 220 watts. Five pairs of tubes provide five times the plate resistance for increased damping factor and slew rate, towards better overall performance.
The Raysonic Red Maple design is focused on direct and simple operation with minimal adjustment. All single paths are hand wired point to point circuitry with the simplest circuit designs chosen to help ensure consistency, reliability and high value.
Features:
Class AB1 Uitra-linear push pull design vacuum tube mono block power amplifier
Five pairs of KT88 or KT120 output tubes operate in push pull 220 watts x 2 channels.
Two 12AX7 cathode coupled phase splitter.
Two 6H30 used as signal and driver tube.
ON/OFF switch with built in blue LED.
Philip Hp audiophile capacitors.
Mundorf / Germany MCap Supreme Silver / Gold / Oil capacitors.
WBT / Germany RCA input jack.
Use Kimber / USA cable for hand wire point to point circuitry.
Extended frequency range C-core output transformer.
High power custom designed toroidal power transformer.
Individual transformer supply power to electron tubes heater.
Fully hand assembled to ensure the highest level of craftsmanship.
Crafted grade aluminum brushed and anodized chassis: black or silver.
Specifications:
Vacuum Tubes: KT88 or KT120x10,12AX7 x 2, 6H30 x 2.
Power Output: 220W per channel (RMS).
Total Harmonic Distortion @1Watt: < 0.03%.
S/N Ratio better than: 100dB.
Input: RCA & XLR.
Frequency Response: 8Hz – 56KHz – 1dB.
Input Sensitivity: 3.2V (Unbalance), 3.2V (Balance).
Input Impedance: 100K? (Unbalance input), 200K? (Balance input).
Speaker output impedance: 4 ohms, 6 ohms, 8 ohms.
Power Consumption: 540 watts.
Operating Voltage: 100-120VAC 50Hz/60Hz 220-240VAC 50Hz/60Hz.
Weight: 47 kg
The Raysonic Red Maple is currently available at a MSRP of $11,900 / pair.
More details can be found at: www.raysonicaudio.com.