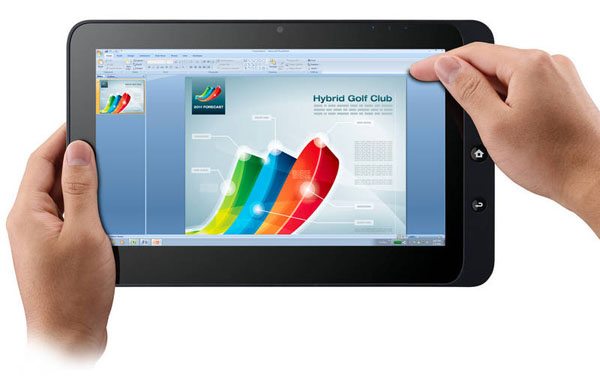 The tablet announcements just keep coming.  ViewSonic is the latest company to join the table category with the introduction of its ViewPad 10 which offers a rather unique spin. Giving users a choice between Windows 7 and Google Android within the same device, this 10.1″ dual-boot tablet is ideal for maximizing business productivity alongside entertainment.
   Packed with a high speed Intel Atom 1.66GHz processor and integrated 2GB of memory, the ViewPad 10 is a powerhouse of mobile computing. Built with a 1024×600 panel with LED backlight technology partnered with capacitive multi-touch functionality, the device provides a crystal clear viewing experience, even when multitasking across several applications.
   The ViewPad 10 enables consumers to take Windows on the road, allowing access to Flash-based content and programs like Word, Excel, PowerPoint and Adobe Acrobat, wherever they are. Plus social media applications like Facebook and Twitter, sharing photos and surfing the Web through Google's Android 1.6 platform are only a switch away, making this device the perfect companion for those looking to work, play and share on the go. Throw in the built-in Wi-Fi 802.11 b/g/n, Bluetooth 2.1 + EDR and 1.3 megapixel built-in front camera, the ViewPad 10 is fully optimized to keep users connected.
   To ensure the ViewPad 10 grows with each person's individual needs, the device offers expandable memory options via a micro SD card slot for up to 32GB of additional space. The dual-boot ViewPad 10 is now available — with Android 1.6 and either Windows 7 Home Premium (with a 16GB SSD hard drive) or Windows 7 Professional (with a 32GB SSD hard drive) for $599 US and $679 US.
For more info please visit ViewSonic.com.