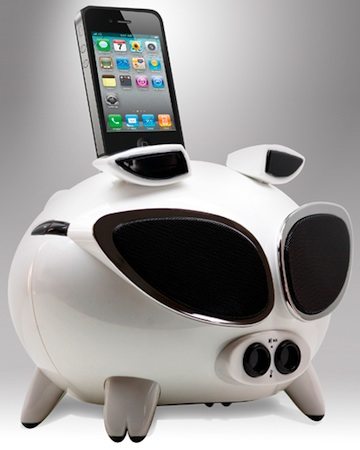 Pretty as a pig?  Perhaps, and then some, when it comes to Speakal's latest product, the Cool iPig Apple-certified iPod speaker dock.  With a unique design and i-device functionality, it should catch the attention of both young and old.
The Cool iPig features unique and industry-new motion detection technology that allows you to control volume, skip tracks, play/pause your music simply by waving your hand in front of sensors around the ears, sides and nose.  Speakal also includes a remote for full control when sitting across the room. The Cool iPig can entertain on-the-go, packed with a lithium-ion battery good for up to 8 hours of continuous playback.
The iPig has 23 watts of total sound power with a built in 15W subwoofer. The Cool iPig is iPhone and iPod certified and features a 3.5mm input allowing easy connection to virtually any music source.
The Cool iPig is available for now for $159.99 U.S.
More info at: http://www.speakal.com