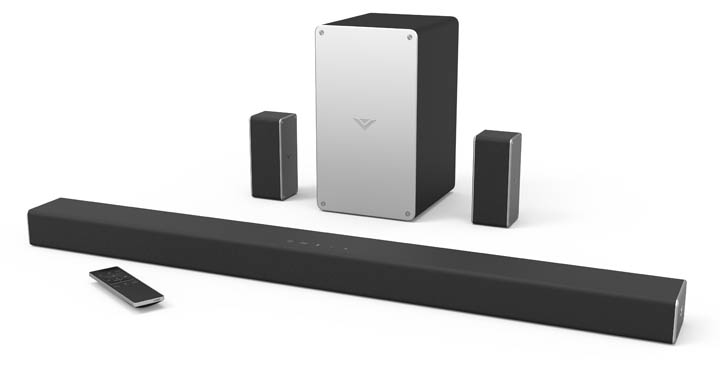 VIZIO has just announced its new home theater sound bar collection for 2017. From a full 5.1 surround sound configuration designed to pump out crystal-clear dialogue and booming sound, to a simple two-channel setup, the new 2017 collection presents a sound bar solution for any consumer looking to bring superior audio to any room in the home. Featuring Chromecast built-in, VIZIO SmartCast sound bars offer easy streaming of songs over Wi-Fi from Chromecast-enabled audio apps for uninterrupted playback. Models in the VIZIO SmartCast collection can be controlled by VIZIO SmartCast Mobile, an app that transforms any mobile device into a powerful touchscreen remote. The latest sound bar offerings are now beginning to roll out to retailers such as Amazon.ca, Costco.ca and Walmart.ca starting at an MSRP of $109.99 for the 28" 2.0 Sound Bar and ranging to an MSRP of $349.99 for the VIZIO SmartCast 36" 5.1 Sound Bar System.
The VIZIO SmartCast 36" 5.1 Sound Bar System was designed for those seeking both refined style and the highest sound quality. Listeners will appreciate the three-channel sound bar's ability to simultaneously amplify 101 dB of room-filling sound while rendering clear-cut dialogue to enhance any show, movie or song. The included wireless subwoofer adds powerful bass, and the two satellite speakers complete the sound bar's enveloping home theater surround sound experience.
With Chromecast built-in, VIZIO SmartCast sound bar users can easily stream millions of songs from Chromecast-enabled apps they already know and love like Google Play Music, Plex, Spotify and more. A tap of the Cast button streams music directly over Wi-Fi to any VIZIO SmartCast device on the home Wi-Fi network. With Wi-Fi streaming, users can control audio content over a greater range compared to Bluetooth, enjoy higher quality audio playback and listen without the distracting interruptions of texts or phone calls from the mobile device used to initiate playback. For those who still prefer streaming over Bluetooth, that feature is also available on all VIZIO audio products.
For whole home audio playback control, VIZIO SmartCast Mobile allows users to control all VIZIO SmartCast sound bars in the 2017 collection from anywhere in the home. With VIZIO SmartCast Mobile, listeners can easily discover new content and simply tap to play, pause, change volume or access the settings for their VIZIO SmartCast device. VIZIO's sound bars also ship with a remote that offers users quick access to control basic functions.
All VIZIO SmartCast sound bars are also now compatible with Google Assistant on devices such as Google Home. This gives users the ability to operate their sound bars with simple voice commands. For those looking to stream music throughout the home, simply pair multiple VIZIO SmartCast sound bars and speakers to play either the same song in unison or different songs in different rooms.
In addition to the VIZIO SmartCast family of sound bars, VIZIO also announced sound bar options for customers looking for a simple upgrade to their TV audio for movies and music. The 28" 2.0 Sound Bar and the 36" 2.1 Sound Bar System also have Bluetooth capability so users can stream music straight from their mobile devices.
2017 VIZIO 28" 2.0 Sound Bar (SB2820n) MSRP $109.99
2017 VIZIO 36" 3.0 Sound Bar (SB3630) MSRP $209.99
2017 VIZIO 36" 2.1 Sound Bar System (SB3621n) MSRP $199.99
2017 VIZIO 32" 5.1 Sound Bar System (SB3251n) MSRP $319.99
2017 VIZIO SmartCast 36" 5.1 Sound Bar System (SB3651) MSRP $349.99