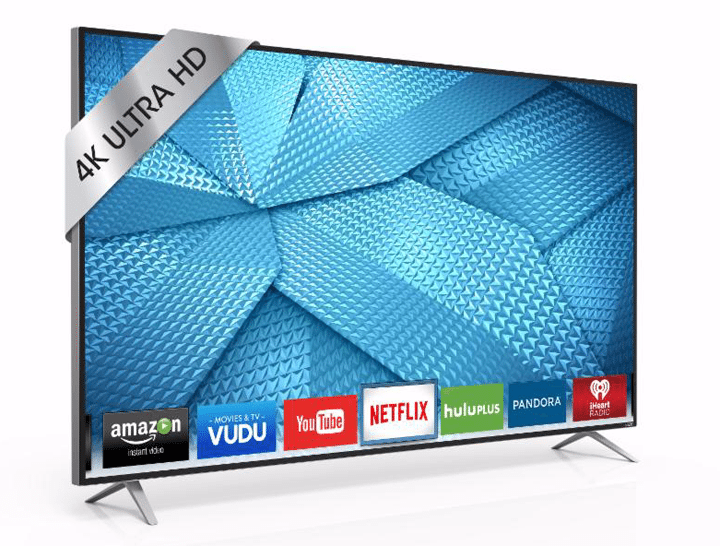 VIZIO has just revealed its all-new 2015 M-Series Ultra HD Full-Array LED Smart TV collection. The new series offers a wide range of screen sizes from 43″ to 80″, as well as stunning picture quality and access to several Ultra HD streaming apps. The collection features a Spatial Scaling Engine to upscale lower resolution content to near 4K Ultra HD picture resolution, along with Full-Array LED backlighting with up to 32 Active LED Zones, and up to Clear Action 720, which together produce a stunningly beautiful Ultra HD experience.
The M-Series collection displays over 8.3 million pixels in every image, four times the resolution of 1080p Full HD, bringing breathtaking detail and clarity into consumers' homes. Full-Array LED backlighting offers an even distribution of light for superior uniformity as compared to Edge-Lit TVs, and up to 32 Active LED Zones deliver precise, controlled backlighting with extremely high contrast and deep black levels.  Active Pixel Tuning enables pixel-level adjustments of brightness for increased picture accuracy and contrast. For the fast-action lover or sports enthusiast, the M-Series line-up boasts up to Clear Action 720 with a blazing 240Hz effective refresh rate achieved with backlight scanning.  These technologies, combined with powerful image processing, allow for sharper detail and ensure fast moving scenes appear clearer than ever.
The M-Series gives consumers a great reason to upgrade with additional Ultra HD apps and more native Ultra HD content options available.  It features the latest generation VIZIO Smart TV platform, VIZIO Internet Apps Plus, and is equipped with ultra-fast 802.11ac dual-band WiFi and VIZIO's V6 six-core processor.  This translates into a fast, easy-to-use experience for the consumer, with access to the latest app options including Ultra HD content from Netflix, Amazon Instant Video, UltraFlix and Toon Goggles. For users enjoying sports, movies or TV shows produced at 720p or 1080p resolutions, the M-Series is equipped with a powerful Spatial Scaling Engine, which beautifully transforms HD content to create a beautifully upscaled Ultra HD resolution image with better accuracy and clarity to provide an all-around more immersive viewing experience.
Support for HDCP 2.2 allows playback of protected Ultra HD content while the latest HDMI 2.0 standard enables Ultra HD playback at 60Hz.  This helps to ensure consumers using next generation cable and satellite receivers, Blu-ray players and game consoles that support Ultra HD content playback, will be able to plug and play those devices with their M-Series Smart TV.
From a design perspective, the VIZIO M-Series has been purposefully crafted with an all-new design that distinguishes it from the rest. Built using select materials, an elegantly slim profile and ultra-thin bezel, the all-new M-Series delivers an immersive, near borderless entertainment experience that complements any room. Additionally, the collection includes a two-sided remote with a backlit QWERTY keyboard, making searching for Ultra HD content and typing a breeze, even in the dark.
M-Series Full-Array LED Ultra HD Smart TV Collection Pricing in US dollars:
M-Series 43″ Ultra HD Full Array LED Smart TV  $599.99
M-Series 49″ Ultra HD Full Array LED Smart TV  $769.99
M-Series 50″ Ultra HD Full Array LED Smart TV  $799.99
M-Series 55″ Ultra HD Full Array LED Smart TV  $999.99
M-Series 60″ Ultra HD Full Array LED Smart TV  $1499.99
M-Series 65″ Ultra HD Full Array LED Smart TV  $1699.99
M-Series 70″ Ultra HD Full Array LED Smart TV  $2199.99
M-Series 75″ Ultra HD Full Array LED Smart TV  $2999.99
M-Series 80″ Ultra HD Full Array LED Smart TV  $3999.99