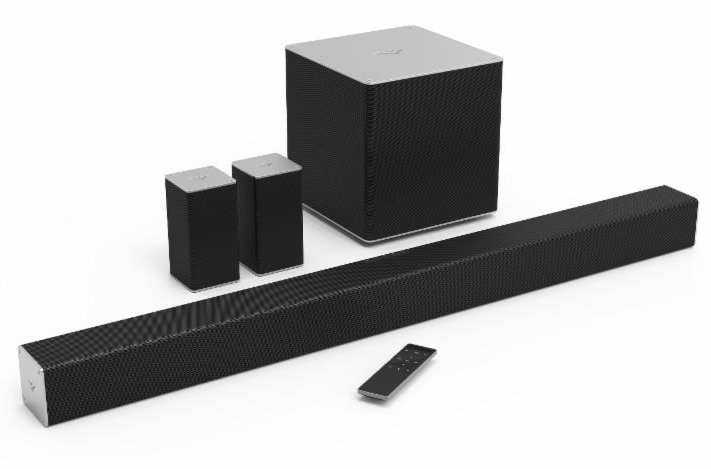 VIZIO has just launched its 2015 home audio collection, which features seven all-new speaker products designed to complement TV from 32″ and up. VIZIO set out to design audio products that serve an optimal enhancement for today's advanced HDTVs, bringing superior sound to any room in the house. The VIZIO 2015 home audio collection offers a wide variety of options, ranging from the VIZIO 29″ 2.0 Sound Bar to the flagship 40″ 5.1 Sound Bar System. The new line-up also includes the VIZIO 2.0 and 2.1 Sound Stands, ideal for smaller spaces like traditional media cabinets.
As the main fixture in the new collection, the 40″ 5.1 Sound Bar System provides consumers with the ultimate home theater audio experience, pumping out clear, room-rocking sound. The sophisticated, metallic surface delivers incredible audio and lines up with any 47″ or larger TV. A true 5.1 surround sound experience is now possible thanks to the three-channel sound bar, wireless subwoofer and dual rear satellite speakers – which outputs a Sound Pressure Level at 102 dB with less than 1% total harmonic distortion.
The 40″ 5.1 Sound Bar System offers HDMI support, giving consumers the best possible audio connection to their TV and other A/V devices, while Bluetooth with aptX enables CD-quality wireless streaming via supported devices. Built-in Dolby Digital surround sound provides dramatic special dimension and enhanced audio for an engaging listening experience, while DTS audio technologies, including DTS Digital Surround, DTS TruVolume and others, further enhance the audio experience to provide deep bass, crisp audio detail, clear vocals and intelligent volume-leveling. The VIZIO audio collection can be controlled by the intuitive, easy-to-use display remote, which features a built-in LCD screen on select models, allowing users to easily view the input source, turn on Bluetooth pairing, enable/disable audio technologies, manually adjust left, right or rear speakers for more discrete control and select other audio settings.
Consumers seeking an audio system that enhances the on-screen picture will appreciate the performance of the 2015 VIZIO audio collection. While watts is commonly used throughout the audio industry to describe power output, the term is really a numerical figure that describes how much power a product consumes, rather than actual performance levels. Watts essentially has no bearing on the consumer experience and instead boasts an inefficient use of energy. This explains why some competitive sound bars tout high wattage but actually sound distorted and blown out. VIZIO chooses to measure the true acoustic output represented by Sound Pressure Level to more accurately describe and directly correlate to the powerful experience its audio collection delivers.
For 2015, the VIZIO sound bars have been crafted to aesthetically coordinate with the 2015 VIZIO Smart TV collection, with an all-new minimalistic, stylish, linear design that seamlessly compliments with any room. Select models feature alloy speaker covers with anodized aluminum accents for an elegant finish. A vertical array of white LED indicators illuminate in sequence to indicate different modes and settings, while a button panel on the top of the sound bars provides easy and immediate control.
US prices for all these new VIZIO audio products are follows:
29″ 2.0 Sound Bar MSRP: $79.99
38″ 2.0 Sound Bar MSRP: $99.99
38″ 2.1 Sound Bar System MSRP: $179.99
38″ 5.1 Sound Bar System MSRP: $249.99
40″ 5.1 Sound Bar System MSRP: $349.99
2.0 Sound Stand MSRP: $149.99
2.1 Sound Stand MSRP: $249.99