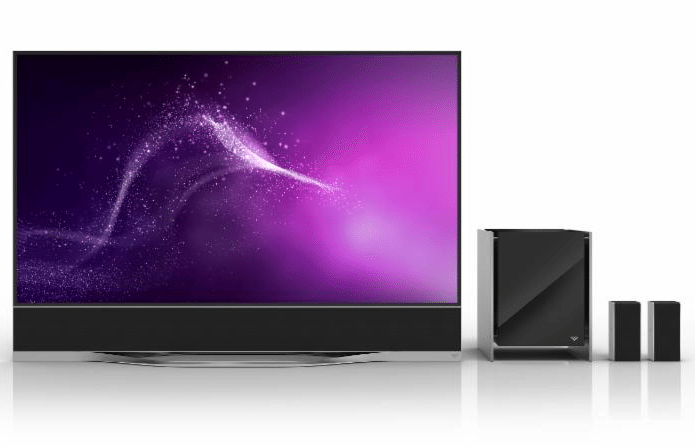 VIZIO has just revealed the details behind the industry's first line of High Dynamic Range Ultra HD TVs to support Dolby Vision – the VIZIO Reference Series Ultra HD Full-Array LED Smart TVs – available in 65″ and 120″ class screen sizes.  The result of a decade of pushing the boundaries of picture and audio quality, the beautifully designed VIZIO Reference Series is packed with groundbreaking, innovative technologies.  Equipped with Dolby Vision for a dramatically different visual experience and Ultra-Color Spectrum for a wider color gamut, the Reference Series displays stunningly beautiful Ultra HD detail with over eight million pixels in every image. An 800-Nit, Full-Array LED backlight and 384 Active LED Zones create a stunningly vivid Ultra HD picture with striking contrast.  Several 4K Ultra HD Dolby Vision titles will be available from Warner Bros. streaming through VUDU, Walmart's video-on-demand service for movies and television.  When combined with the integrated 5.1 sound bar system on the 65″ model, home theater aficionados will not only enjoy unprecedented cinematic picture quality, but a powerful home audio experience that delivers a Sound Pressure Level of up to 101dB.
The 2015 Reference Series was designed for the videophile, pushing the boundaries of brightness, color and contrast and featuring an integrated home theater system to perfectly round out the consumer experience. A Full-Array 800-Nit LED backlight makes for an incredible picture, enabling a wider and more dynamic range of luminance with an unprecedented 384 Active LED Zones for precise contrast control. Clear Action 1800 is set by a whole new standard that allows consumers to enjoy fast-action sports and movies with superior motion clarity thanks to powerful image processing and blazing 240Hz effective refresh rate.  The new VM50 Ultra HD engine, a dedicated Ultra HD motion and picture-processing engine, provides enhanced clarity in every Ultra HD image. for sharper detail and ensure fast moving scenes appear clearer than ever.
Unlike most TVs, which can only reproduce a limited color gamut of Rec 709, the Reference Series features an Ultra-Color Spectrum which widens the color gamut, rendering colors closer to the range a human eye can see, something never before possible on a home TV screen.  Taking advantage of this capability, Dolby Vision content on the Reference Series delivers captivating color, astonishing brightness and a contrast range with brighter highlights and deeper darks.  This complete High Dynamic Range solution more accurately reproduces the nuances in every picture, revealing fine details found in real scenes that are brought to life on the VIZIO References Series.
On top of redefined picture quality, the VIZIO Reference Series gives consumers access to unparalleled Ultra HD streaming with an initial slate of Warner Bros. 4K Ultra HD Dolby Vision titles that will be available through VUDU, a leader in quality over-the-top (OTT) video for digital movies and TV.The content-delivery service will deliver easily accessible Dolby Vision content in 4K Ultra HD to enable the ultimate home cinema experience.  Consumers can find an ongoing list of upcoming Warner Bros. titles in Dolby Vision at VUDU.com/UHD.
Equipped with blazing fast 802.11ac dual-band WiFi for a fast, efficient streaming experience, the Reference Series features VIZIO Internet Apps Plus, offering entertainment enthusiasts Dolby Vision playback capabilities through VUDU and also instant access to Ultra HD content through other apps including Netflix, Amazon Instant Video, UltraFlix and Toon Goggles.  Supported by the HEVC H.265 codec and powered by the VIZIO V6 six-core processor, the Reference Series provides consumers with seamless discovery and organization of apps.
For sports, movies or TV shows only available to consumers in 720p and 1080p, the Reference Series is equipped with a powerful Spatial Scaling Engine, which beautifully transforms the ordinary pixels to finer, more accurate Ultra HD pixels, sharpening details to provide an all-around better viewing experience. The Reference Series supports future ready HDMI ports to ensure consumers using next generation cable and satellite receivers, Blu-ray players and game consoles, won't miss out.   The Pure Cinema Engine displays frame rates at an authentic 24 frames per second, giving movie-loving consumers the exact experience filmmakers intended.  Additionally, the Reference Series is also great for gamers, with a High Velocity Mode that triggers an explosive 120 frames per second for legendary gaming speeds with high responsiveness and low latency.
If the best picture quality with the most innovative technologies isn't enough to entice consumers to upgrade, perhaps the high-end design or integrated 5.1 Sound Bar System will do the trick. Reference Series sets an industry standard for beauty and marks a breakthrough achievement for integrated home theater audio in the 65″ class model. From the near edge-to-edge display and ultra-thin bezel to the aluminum frame and precision crafted base, each detail is meticulously produced from select materials. The innovative integrated sound bar built into the base of the 65″ model is supplemented by a powerful 10″ wireless subwoofer and two rear satellite speakers. The audio experience is further enhanced by top-of-the-line audio technologies from Dolby and DTS, including over 101dB of crystal-clear sound with less than 1% harmonic distortion.  To find the right fit for any home theater, the Reference Series enables a modular configuration, allowing consumers to install the TV with or without the sound bar, setting the stage for the ideal custom home theater entertainment environment.