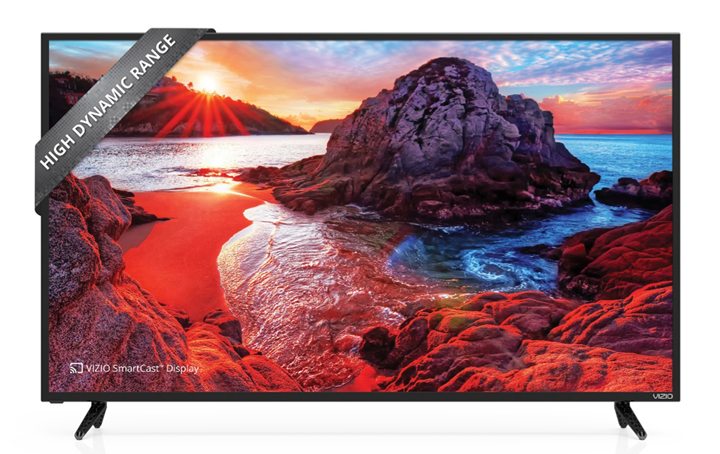 VIZIO has just revealed its new 2017 VIZIO SmartCast E-Series TV collection. Highlighted by 4K Ultra HD High Dynamic Range models for the 55" class screen sizes and above, the collection also includes Full HD and Ultra HD models, ranging from 32" – 80" class sizes. All E-Series models feature Chromecast built-in, the easiest way for viewers to stream apps they know and love, and the new 75" and 80" class size XXL 4K HDR big screens also boast picture quality technologies like High Dynamic Range with HDR10 content support. The VIZIO SmartCast E-Series collection ranges in price from $209 to $3,399.
The VIZIO SmartCast E-Series collection is known for bringing uncompromised value to consumers. With advanced picture quality technologies like High Dynamic Range with HDR10 content support on the 55" class size and above, the E-Series is one of the most feature-rich entry-level options available to consumers. Unlike edge-lit LED backlight displays, VIZIO utilizes a powerful Full-Array LED backlight and up to 16 Active LED Zones that dynamically adjust to on-screen content, producing dark, inky black levels much richer than edge-lit LED backlight displays can deliver. High Dynamic Range with HDR10 content support further enhances big screen viewing by offering greater depth and more vibrant contrast. HDR10 enables compatibility with HDR Blu-ray players from Samsung (UHD-K8500) and Philips (BDP7501/F7), as well as PS4 and Xbox One S game consoles. Clear Action™ 240 technology and ultra-fast 120Hz Effective Refresh Rate, achieved with backlight scanning, ensures action-packed scenes are consistently smooth, stable and realistic.
Like every display, sound bar and speaker in the VIZIO SmartCast collection, the all-new E-Series displays allow users to simply stream and control their entertainment. With Chromecast built-in, consumers can simply tap the Cast button in popular Chromecast-enabled apps like Netflix and YouTube to stream their entertainment to the big screen1. By downloading the VIZIO SmartCast app, users can control their display from any room in the home, search for content across multiple apps at once and stream shows directly to their E-Series display through the Google Assistant on devices like Google Home2. To further simplify the out-of-box experience, an all-new remote is included with all E-Series models to seamlessly allow users to complete the first-time set-up of their display without a phone or tablet. Once set-up is complete, the remote continues to provide access to the on-screen menu, sidebar settings and more.
The new E-Series will offer the following models:
VIZIO SmartCast E-Series 32" Full-Array LED Smart TV (E32f-E1) MSRP $209.99
VIZIO SmartCast E-Series 43" Ultra HD Home Theater Display (E43-E2) MSRP $399.99
VIZIO SmartCast E-Series 50" Ultra HD Home Theater Display (E50-E1) MSRP $469.99
VIZIO SmartCast E-Series 55" Ultra HD HDR Home Theater Display (E55-E2) MSRP $549.99
VIZIO SmartCast E-Series 60" Ultra HD HDR Home Theater Display (E60-E3) MSRP $749.99
VIZIO SmartCast E-Series 65" Ultra HD HDR Home Theater Display (E65-E0) MSRP $899.99
VIZIO SmartCast E-Series 70" Ultra HD HDR Home Theater Display (E70-E3) MSRP $1,299.99
VIZIO SmartCast E-Series 75" Ultra HD HDR Home Theater Display (E75-E3) MSRP $1,999.99
VIZIO SmartCast E-Series 80" Ultra HD HDR Home Theater Display (E80-E3) MSRP $3,399.99