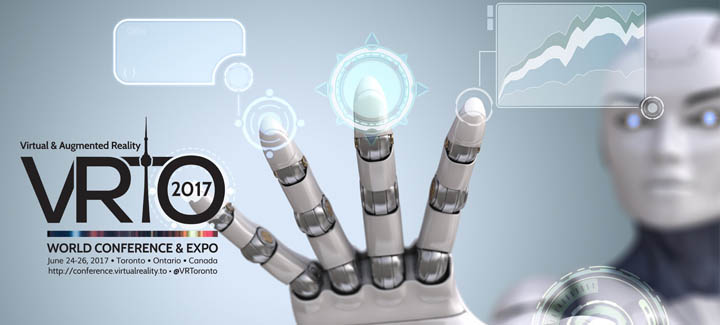 VRTO (Virtual & Augmented Reality World Conference & Expo), Canada's largest virtual reality convention,focused on experiential/immersive technologies returns for the second annual edition of its critically acclaimed deep-dive symposium at Ryerson University's Rogers Communication Centre in Toronto from June 24th-26th. Spanning three days and featuring more than 65 international expert speakers, 40 VR/AR exhibitors and 10 rooms, halls and studios each focused on different disciplines and interests — from Web VR to spatialized audio — VRTO brings the best and brightest from the VR world together under one roof.
VRTO 2017 has offerings for all levels of virtual and augmented reality expertise. Two days of intensive training are available for developers and seasoned professionals looking to learn further advanced techniques. A one-day film & TV industry "onboarding" workshop takes place via VRTO's on-site TV studio for those looking to learn how to shoot and utilize VR/360° video and audio. While curated immersive content pavilions will feature the best interactive VR games, prototypes and experiences in virtual, augmented and mixed reality for attendees to enjoy during VRTO's full run.
Among several major announcements, VRTO sees a major breakthrough in autism research announced by keynote speaker, Canadian virtual reality pioneer Graham Smith. Smith — Chief Science Officer of Dutch educational tech company WebChair — will reveal the incredible results from the Ontario government backed WEBMOTI global research project. WEBMOTI, a telepresence system using VR technology, allows autistic students who often struggle with sensory overload in classrooms to attend classes remotely and fully control the sensory input they receive on their end.
VRTO 2017 consists of one of the most prestigious lists of VR industry titans ever assembled. Some of 2017's speakers, exhibitors and activations include:
● Graham Smith — Canadian VR pioneer; Chief Science Officer of Dutch educational technology company WebChair
● Moses Znaimer — Canadian media mogul; creator of Dora Award-winning audience-interactive play "Tamara" and "Tour of the Universe" the world's first flight simulator ride (operated beneath the CN Tower; 1985-1990)
● Dr. Sarah Diamond — President of OCAD University
● Dr. Maria Karam — Inventor, entrepreneur, and leading academic in the computing sciences; Founder + President of Tactile Audio Displays Inc.
● David A. Smith — Computer scientist; creator of both the first 3D interactive game "The Colony" and the virtual set/camera used in James Cameron's "The Abyss"
● Researchers from Microsoft (Eduardo Cuervo) and Google (Jai Krishnan)
● FIVARS Pavilion (Festival of International Virtual & Augmented Reality Stories) — the world's best immersive shorts, hosted inside an 8K projection mapped spherical cylinder from UK based 360° projection company Igloo Vision, debuting in Canada
● HumanEyes — creators of the VUZE VR Camera (the world's first 3D, 360°, spherical virtual reality camera); making its Canadian debut and available for sale at VRTO
● VR Arcade — A highly stylized arcade featuring multiple VR activations from Canadian developer Secret Location and New York based Iris VR
● Executives from four local Toronto based artist-run media art centres Trinity Square Video, Charles Street Video, Gamma Space, and Dames Making Games
• VRTO 2017 takes place at Ryerson University's Rogers Communication Centre (80 Gould St, Toronto) Sunday, June 25th to Monday, June 26th from 10am-6pm daily; with a special media/VIP preview and reception taking place Saturday, June 24th from 1pm-6pm.
For 20% off tickets go to https://www.eventbrite.com/e/vrto-2017-virtual-augmented-reality-world-conference-expo-tickets-32927104857?aff=VRTOAFF2017 CODE: VRTOAFF2017