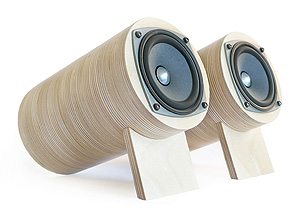 Well Rounded Sound Inc. has just announced their latest addition in their desktop speaker products – the Corgi loudspeaker. The Corgi has been designed to meet the demands of music enthusiasts. The Corgi loudspeaker is relatively small and needs to be used in conjunction with an amplifier and perhaps one or two subwoofers. Well Rounded Sound has designed to Corgis to produce a natural and transparent sound.
Corgis feature Advanced Full Range Drivers that have lightweight, self-damped speaker cones made from a proprietary blend of paper and natural charcoal powder – giving the cone its unique gray color. An aluminum alloy center cap is used to extend high frequencies beyond 25 000Hz and to disperse and virtually eliminate resonances that usually occur at higher frequencies, greatly reducing sound colorations.
The enclosure is made from Finnish Birch 11 Ply Plywood (with ultralow VOC content) – sandwiched together to create monocoque ultra-rigid vessel for the speakers. Music from sources such as computers, tablets, radios, CD players, or turntables can be enjoyed at optimum, crossover free reproduction through the Corgis.
Specifications:
Power Handling: 10 watts RMS, 30 watts maximum
Impedance: 8 ohms
Frequency range: 80-25,000 Hz
SPL: 88 dB 1W/1m
Overall height: 8 1/2″
Overall length: 9″
Finish: Finnish Birch
MSRP $799.00 U.S. / pair
Corgis can be preordered online and will be available for shipment on July 30th 2012. For more information visit: www.wellroundedsound.com.