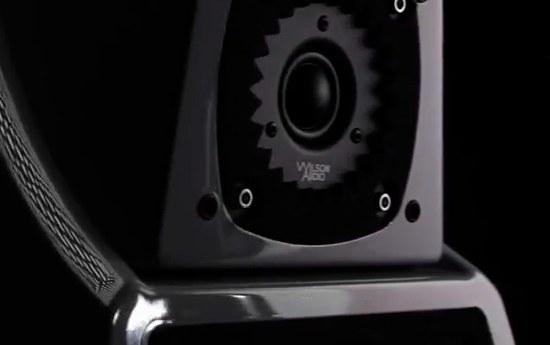 Word is out that Wilson Audio has a new speaker that they will officially be launching this Fall, 2012, with an official press release in mid-September; however, we've got a teaser for you now.  The all-new loudspeaker model from Wilson Audio, is dubbed the "Alexia" and is supposedly positioned above the Wilson Sasha, and below their MAXX.
The Alexia's form factor resembles the Sasha; with a similar footprint but the new Alexia is a little taller. The Alexia adopts a modular design, similar to a number of other models in the Wilson lineup. The modules allow for micro adjustments in the time-domain for the woofer, midrange and tweeter. High frequencies will be delivered by Wilson's latest revised version, the Convergent Synergy Tweeter. Mid frequencies will be served up by Wilson's acclaimed midrange driver. For the bass, Wilson has developed two entirely new drivers, a eight-inch and a ten-inch woofer. As with the MAXX Series 3 and the Alexandria XLF, speed, bass extension, and authority are optimized with this carefully tuned staggered-two-woofer approach.
As mentioned, full technical details will be included in a press release scheduled for September 15, 2012. In the meantime, you may want to look at a teaser video for the new Alexia, found on You Tube at: www.youtube.com/watch?feature=player_embedded&v=MT1Xbmx0Ink
More information will be made available at: www.wilsonaudio.com.