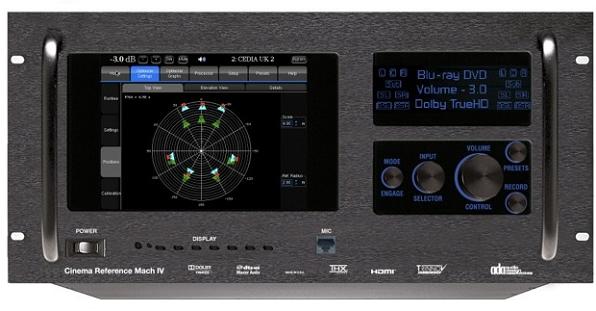 Audio Design Associates (ADA), a U.S. based audio product company, has just recently announced their new Cinema Reference Mach IV Home Theater Preamplfier, Controller and 16 Channel TEQ Trinnov Optimizer. The front face of the Cinema Reference Mach IV features a striking 7" 1080p touch-screen display that also doubles as a video preview display and setup interface. The Cinema Reference Mack IV isn't just a pretty face though, looking to the rear, there are eight HDMI inputs and two HDMI outputs, which are all 1.4 3D requirements. In addition, both balance and unbalance analogue connections are provided for.
The Cinema Reference Mach IV offers an integrated TEQ-16 sixteen-channel Trinnov electronic room correction optimizer, with the Mach IV claimed to be the only preamp / processor in the world to have an integrated TEQ optimizer featuring Trinnov technology. The signal path directly to the output stage is purely digital with no A/D and D/A conversion between processing and post-processing stages.
It's 1080p display doubles as a 16×9 preview monitor and TEQ Trinnov touch-screen. The TEQ (Trinnov) electronic room correction optimizer is an all-digital audio stage from the inputs right to the 16-channel balanced or unbalanced outputs. This powerful combination of cutting-edge technologies delivers unmatched flexibility and performance.
Features List:
– 8 HDMI 1.4 (3D) inputs & dual-mirror outputs
– Unbalanced (6) & Balanced (2) Audio Inputs
– Optical (2), Coax (5) & Balanced (1) Digital Inputs
– 8 Channel Bypass Input (Balanced & RCA)
– 8 Channel Unbalanced & Stereo Record Outputs
– 16 Channel TEQ Trinnov Optimizer Output
– Dual LAN Connections (TEQ & Cinema Ref)
– Expandable to 32 Channels (TEQ-16 Slave)
Pricing and availability on this product is yet to be announced; however, for more information, look to: www.ada.net.