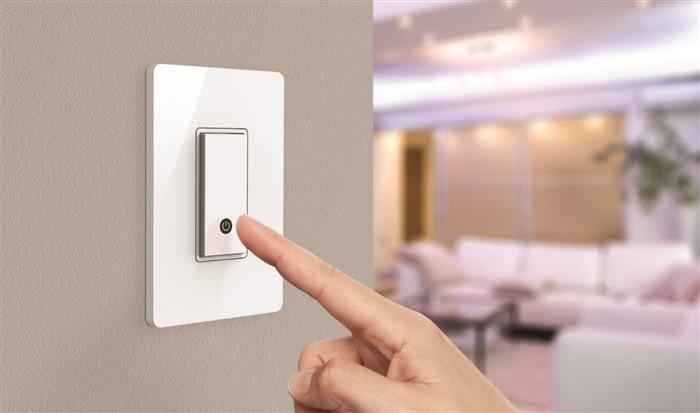 We live in an increasingly technology-filled world and while there's more computing power in a modern smart phone than the spacecraft that landed on the moon, one area that's been left out are our humble homes. Molded quartz countertops, engineered hardwood, and LED lightbulbs may take up aisles and aisles at your local home improvement store but it's only recently that devices such as smart thermostats and smoke detectors, lighting control, and automation have started to garner interest from the average consumer.
Previously, home automation was economically inaccessible for many, costing tens (or even hundreds) of thousands of dollars and requiring specialized equipment, wiring, installers, and programmers. Vendors such as Crestron, Control 7, and Savant have a wide range of products that can control everything from motorized blinds to lights to climate control. Their systems also integrate with home theatres for multi-room audio and video control and distribution. Some readers may be familiar with the X10 system, a protocol from the mid-70s that is all but obsolete today. For this article, I'll be taking the do-it-yourself approach with the various off-the-shelf systems now available.
Home automation is poised to take off this year due to a confluence of factors. First and foremost, Texas Instruments has released a $10 WiFi chip, making it incredibly cheap and easy for manufacturers to add wireless access (and therefore Internet connectivity) to practically any device. Alongside that, Bluetooth Low Energy (v4.0) is enabling wireless devices such as sensors to operate for years on a single coin cell battery (CR2032). Next, a whole slew of devices from established names such as Belkin and Philips aim to enable the smart home through mobile apps on users' tablets and smart phones. Lastly, start-ups such as Securifi, Revolv, and SmartThings offer devices that support multiple protocols and eliminate complicated programming, utilizing smart phone and tablet apps which users are very familiar with.
When looking at home automation, most people think of controlling their lights, locks, HVAC (heating, ventilation, and air conditioning), and home entertainment. Logitech introduced the concept years ago with their line of Harmony programmable remotes which were capable of controlling the environment with its infrared commands when certain "activities" were selected. For example, if you had an infrared capable light switch, the Harmony could dim/turn off the lights, turn on your TV, and set the AV receiver to the correct input when you wanted to watch a movie – all with the press of a single button. Infrared, however, has a major disadvantage: it requires line of sight. To address this, a few competing wireless protocols emerged: X10, Insteon, Z-Wave, and Zigbee to name a few. Each has its advantages and disadvantages but they all have similar functionality. Today, Insteon and Z-Wave are the main competitors though this writer suspects that WiFi and Bluetooth Low Energy will quickly eat into their market share with their more commonplace, familiar, and ubiquitous protocols.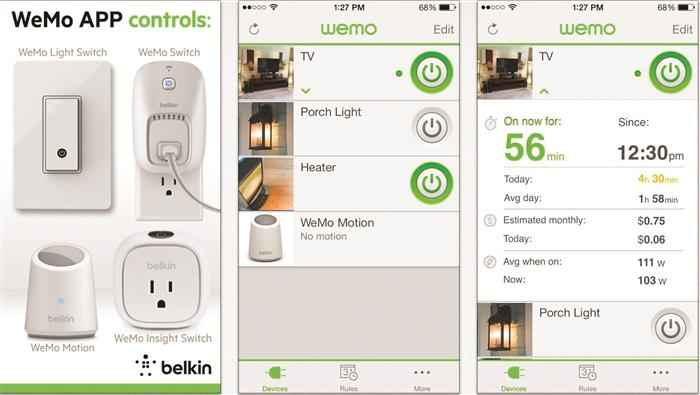 The Belkin WeMo app, designed for iOS/Android smart phones and tablets, is used to control the whole range of WeMo devices.  The image on the top-middle shows a screenshot of the app's main menu, which lists all of your WeMo devices and lets you control them.  The image on the top-right shows energy consumption information from the WeMo Insight Switch.
To get started with home automation in 2014, users no longer have to give up an arm and a leg, go through a custom installer, or even get an electrical permit (check with your local jurisdiction for specific requirements). Today's offerings allow users to start small and add on as they go along. For as little as $50 and five minutes, you're on your way to remotely controlling a light switch, lamp, or other device. These systems also do not have any recurring or monthly fees. With the barrier to entry so low, users can take a plunge without breaking their pocketbooks. As an owner of an automated home, I can tell you that once you enable your home like something out of the Jetsons, you'll never want to go back. Depending on your requirements, budget, and ambitions, you really can connect, automate, and control practically everything in your home: lights, climate, security, audio/video, and much more, all without breaking the bank.
Top: Belkin WeMo Smart LED Bulb ($39). Bottom: Belkin WeMo Switch ($49).
The easiest and most affordable system to get your feet wet with home automation is Belkin's line of WeMo WiFi-enabled devices such as wall switches, wall plugs, light bulbs, motion sensors, and even a baby monitor which are available at many local retailers. Starting at $49, the Belkin WeMo Switch is a device that turns any outlet into a remotely controlled "smart" outlet. This allows you to remotely control lamps, fans and other devices of your choice. To get started, all you have to do is install the WeMo app on your smart phone (iOS or Android), plug the device into the wall, connect to the Switch over WiFi, and set it up. It takes less than 5 minutes and out of the box, the Belkin WeMo Switch is capable of being programmed from the mobile app with time-based rules such as when to turn on or off. Additionally, the WeMo line is "if this then that" (IFTTT)-compatible, a free Internet service that allows users to create "recipes" that perform actions based on triggers. IFTTT has a large number of Internet services and devices that can interact with the WeMo. For instance, a recipe could trigger an email to be sent through Gmail every time the WeMo Switch is turned on. As of writing, there are 82 different services/devices that are accessible through IFTTT: email, SMS, Craigslist, YouTube, Twitter, and many more. For $79, the WeMo Switch + Motion pack could allow a parent to detect when their children get home, turn on the light, and send an alert to their smart phone. For those users who know their way around a screwdriver and are looking to control a ceiling light fixture, the WeMo Wall Switch replaces a standard wall switch, enabling it to be controlled through the smart phone app. Simply shut off the power at the breaker and replace your existing 3-wire, single-pole switch and again, in less than 5 minutes, your track light or fixture is now controllable through your smart phone.  Then there is also the WeMo Insight Switch, which works just like the Switch mentioned above but can also send information about the plugged-in device's energy usage directly to your smart phone or tablet.  Rounding out the WeMo line-up is a WeMo Smart LED Bulb ($39) which can be set to automatically respond to sunset/sunrise, turned on/off or dimmed, all from your smart phone.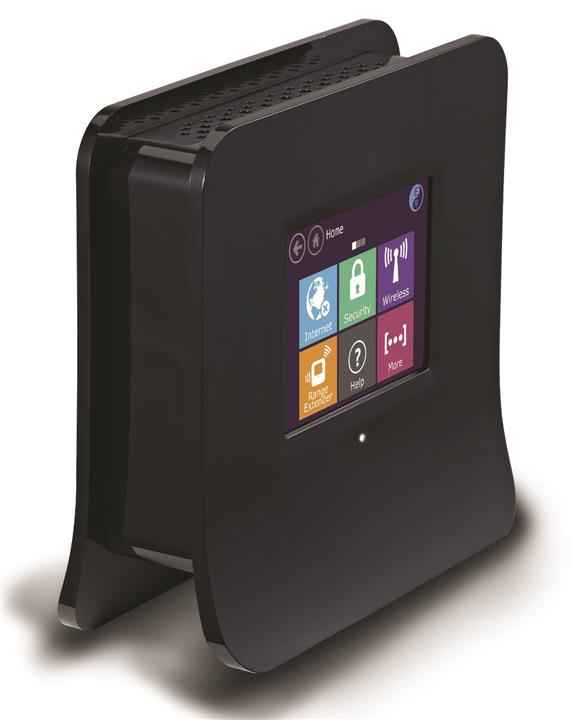 The Securifi Almond+ is a combination Internet router and home automation controller.
For those looking to take their automation setup further, you'll have to look at a more advanced system such as those offered by Insteon, Z-Wave, or Zigbee. These protocols each use a proprietary wireless mesh network (as well as powerline communication for Insteon) but require a central control hub, which adds a slight expense. The advantage is that these more established home automation protocols have a huge assortment of devices available: motion/door sensors, water/leak sensors, multi-pole switches, HVAC control, energy monitoring, handheld remotes, and many others. With the wide variety of devices and protocols, users may have difficulty deciding between them. To address this, three companies have released devices which incorporate multiple radios. The Securifi Almond+ (www.securifi.com) is a combination Internet router and home automation controller.  At $120 it is a steal and comes with both Z-Wave and Zigbee support as well as the latest 802.11ac WiFi, 4 gigabit Ethernet ports, and two USB 3.0 ports. However, its most visible feature is the 3.5" screen that will be used to control and program it. The Revolv (www.revolv.com) is another consolidated home automation controller. While it lacks the Internet routing functionality and is almost triple the price ($299 USD) of the Almond+, it comes with seven different radios, ensuring maximum compatibility. The third option is by SmartThings, a Kickstarter project that ended in September 2012 and raised over $1.2M. The SmartThings $99 hub is fully integrated with IFTTT and has smart phone apps that offer extensive features and functionality including simplified programming through the app.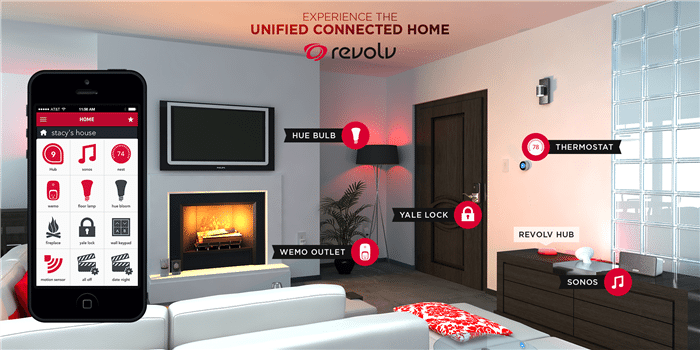 The Revolv is a highly versatile home automation system that works with many different devices including the Sono multi-room music system, Philips Hue LED light bulbs, Belkin's WeMo products, Yale and Kiwkset locks, just to mention a few.
For my own home, back in late 2012, I chose a Z-Wave setup operated by a VeraLite controller (from MiCasaVerde), which is slightly less user friendly than SmartThings but offers advanced programming capabilities. The VeraLite controls every light in my home as well as 3-pole switches and interfaces with my Canadian-made Ecobee Smart Thermostat (www.ecobee.com), a touchscreen-equipped, WiFi-enabled thermostat that has much more functionality than the Nest, which was recently acquired by Google for over $3 billion. My own system recently expanded with the addition of the also Canadian-made Piper (www.getpiper.com), a 1080p WiFi-connected home security camera which also supports Z-Wave. In a few weeks, door sensors and a smart lock (www.lockitron.com) will be joining the mix, rounding out my connected home. For a great example of the possibilities of modern home automation, search on YouTube for "voice-controlled home automation" and check out the video by Doug Gregory. Using less than $400 worth of equipment, he demonstrates how he can control lights, a TV, and a network media player, all with voice commands on an Android smart phone. One note for those looking to replace wall switches: check to ensure your fixture boxes are deep enough to accommodate the radio-equipped switches which are deeper than standard switches.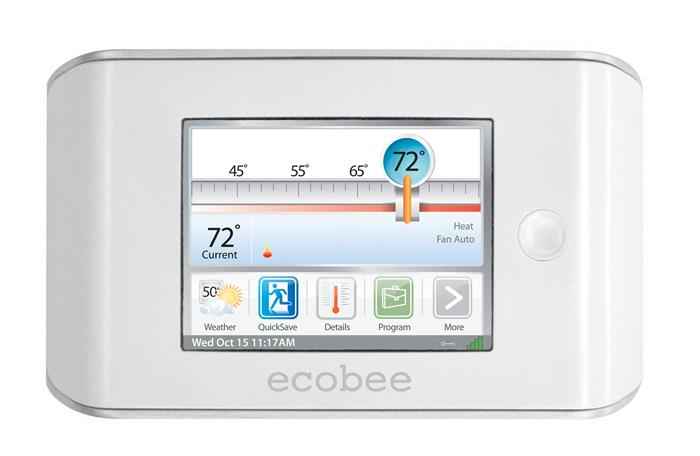 Canadian-made Ecobee Smart Thermostat
Beyond the above-mentioned smart home controllers, there are now additional devices that can enhance your home. The latest and often easiest addition is a smart, connected thermostat, most famously the Nest – a thermostat designed by two former Apple engineers that learns your habits and adjusts your home's temperature depending on input from a variety of variables such as your home's age, outdoor temperature, energy costs, and other factors. Non-programmed or on "hold" thermostats waste energy by unnecessarily heating or cooling a home when occupants are not home. These devices address this by enabling users to better manage their HVAC usage, which can make up 40-60% of a monthly hydro bill.
Moving over to audio video, integration can be achieved with devices such as the $90 iTach Ethernet to IR adapter, a network-connected IR blaster that can be programmed and controlled via a smart phone app or by other 3rd party networked devices. By connecting the IR blaster to your home network, any other device on the network can send infrared commands via the iTach to your devices.
With the wide variety of devices and technologies now available, your home can adapt, communicate, and become an active part of your life. The ease of use and affordability of many of these systems means that for a small investment, you can quickly and easily enable your most used switches and devices to become smart. Never having to worry about lights being left on, the thermostat being set, or the door being unlocked are just some of the ways that home automation can enhance your home and bring peace of mind.
Comments are closed.