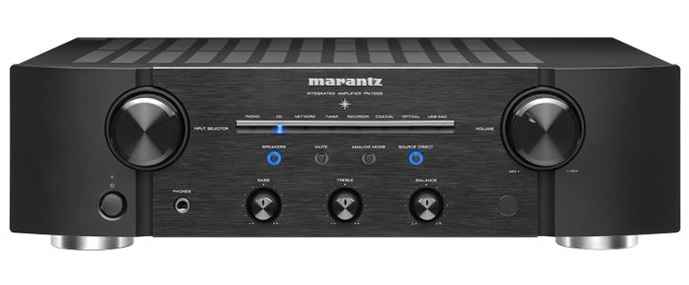 Marantz has just announced the releasse of a new integrated amplifier – the PM7005.  The PM7005 is both an integrated stereo amplifier and USB digital-to-analog converter (DAC)Within the PM7005 are premium components including Marantz's proprietary HDAM SA3 circuitry, Cirrus Logic CS4398 DAC and a high-speed "instantaneous current" power supply that works to ensure the PM7005 can fully deliver the 80 watts-per-channel into 4 ohms that its rated for.  On the back are gold-plated solid brass terminals for secure connections.  

The PM7005 brings in the new with the old by providing a USB-B connection capable of hi-res 192kHz/24 bit audio files, as well as DSD files in both 2.8MHz and 5.6MHz but also providing an integrated phono stage input with Marantz's Analog Mode that shuts of digital circuitry to maximize the analog goodness.  

Additional features for the PM7005 include digital optical and coaxial inputs, a remote control,  a signal isolator for DAC Mode, and a current feedback phono equalizer to help insure the purest listening, from 1s and 0s to analog grooves.

Marantz's new PM7005 Integrated Amplifier with USB-DAC will have a MSRP of $1,000 U.S. with expected availability in August, 2014.  Look for more details at: http://www.marantz.com/.
Comments are closed.