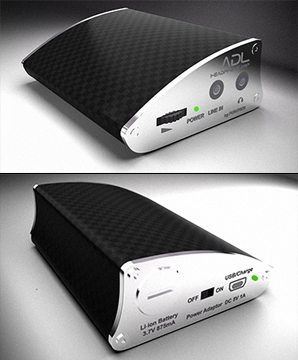 Furutech subsidiary Alpha Design Labs has just announced a new portable Cruise headphone amp for those seeking to achieve uncompromised sound from their headphones.
The Cruise is based on a 24-bit/96 Hz USB DAC and offers a 3.5mm analog line input encased in a mirror-polished stainless steel chassis with a carbon fiber body. Power comes from a USB-rechargeable battery that can be recharged while listening or with the use of an AC/DC adaptor. There's also a matching iD35SP mini-to-mini stereo patch cord "based on the same technology as Furutech's top-tier Flux Series cables with silver-plated ? OCC conductors, 24k gold-plated connectors, two-layer shielding of aluminum foil and tinned copper and Furutech's proprietary ? process deep cryogenic and demagnetizing treatment."
Furutech and Alpha Design Labs products are distributed in Canada by Audiyo Inc., www.audiyo.com.