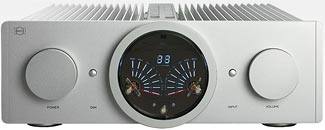 Balanced Music Concept (B.M.C.) Audio began offering products to North America in February 2011.  B.M.C. has now released their new AMP C1 stereo solid-state integrated amplifier.
To go along with the unique and attractive design, the amplifier produces 200 wpc @ 8 Ohm (350 wpc @ 4 Ohm) and features front-mounted analog power meters.  Flanking the centrally located power meters are two knobs – left and right, one for power and the other for volume.  Getting to the engineering design, the Amp C1 is balanced from input to output and incorporates zero feedback in the signal path.  In addition, the Amp C1 utilizes no compression at any volume level based on the concept that it is better to address distortion in the design rather than by trying to correct it when it starts.  The rear of the B.M.C Amp C1 inputs are facilitated by two sets of XLR's and three sets of gold-plated RCA jacks.  Output is via robust gold-plated loudspeaker binding posts.  A large 2 kilowatt toroidal power supply and large banks of capacitors set the Amp C1 to deliver on the goods.
The B.M.C. Amp C1 is currently available for $7995 U.S.
More details are to be found at: http://www.bmc-audio.  B.M.C. products are distributed in Canada by www.audionation.ca.