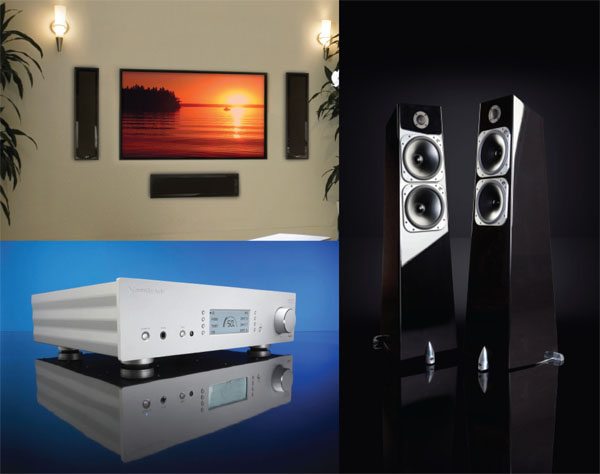 Our beautiful country of Canada is home to a healthy, deeply rooted consumer audio video industry with an equally impressive consumer market.  After all, some of the most successful brands in the business, particularly on the audio side, began their life right here in the Great White North.  Today many leading companies continue to design and manufacture audio and video components in Canada, ranging from exclusive high-end companies to giants that export products all over the world.  So doesn't it make sense that Ontario, being Canada's largest consumer market, be host to an annual audio video show?  We sure thought so!  Below, I share with you an overview of the show and some of the latest developments.
It's a Hotel Show
The inaugural edition of TAVES will take place at the gorgeous Le Meridien King Edward Hotel in downtown Toronto, between September 30th and October 2nd, 2011.  Unlike other shows which are held in a convention centre, TAVES will be hosted in a hotel.  The TAVES show floor will span all of the large meeting rooms of the hotel as well as dozens of guestrooms.  And there are some very good reasons for using individual rooms as opposed to a large convention centre for a show like this.  The large meeting rooms at the King Edward hotel will enable exhibitors to demonstrate full scale home theatre systems and elaborate audio setups.  The larger-than-average guestrooms are ideal for two-channel audio presentations since they perfectly simulate the environment of a typical room in your home.
TAVES – An Event for Everyone, Not Just Enthusiasts
Who is TAVES designed for?  You might think that a show like TAVES would attract only audio video enthusiasts but you'd be wrong.  TAVES is truly designed to appeal to a wide audience, ranging from those who don't know anything about audio video to seasoned hobbyists to home decorators and custom installers.  Experts will be present in every demonstration room and will be glad to educate visitors about their products and technologies in as little or as much detail as you'd like.  TAVES will be a fantastic place for anyone looking to set up a new music or home theatre system, upgrade an existing system, remodel a single room in their home or renovate and modernize their whole house.  The opportunity to discover new brands, products, technologies and retailers will be tremendous.
The Ultimate TV Comparison
Did you know that you should never judge a TV's picture quality when looking at it in a store?  Most stores display TVs with out-of-the-box picture settings, which are designed to grab your attention and compete with other TVs on the brightly lit showroom floor.  Unfortunately these settings result in a very inaccurate, unnatural picture, making it impossible to judge a TV's picture quality in the store.  To help potential TV buyers make an informed decision, TAVES will feature a special TV comparison room.   For the first time ever at an audio video event, we will provide an opportunity for visitors to compare true picture performance between some 20 different TV models across multiple brands. The TV line-up will span plasma, LCD, LED and 3D TVs, each professionally calibrated. The brands will not be revealed to visitors until after the demonstration.  This is a demonstration you will never see at a store!
Discover High Quality Audio
One of the greatest things about a show like TAVES is the opportunity to discover an amazing number of audio and video brands, many of which you are likely not aware of.  Think of it this way – exploring the TAVES show floor is the equivalent of visiting a few dozen audio video stores all in one day!  Whether you are looking to build a high quality two channel audio system that will faithfully reproduce your favorite tunes or a multi-channel home theatre system that will reproduce the movie theatre experience at home, TAVES has got you covered.
Home Theatre and Audio Seminars
Audio video technology advances rapidly but don't worry – we'll do our best to help you keep up.  One of the key goals of TAVES is to educate visitors about consumer audio video products and the technology that surrounds them.  That's why the first edition of the show will offer numerous free seminars, some aimed at novice users and some for dedicated enthusiasts.  While the list of topics was not finalized at the time this article was written, we expect to deliver seminars which cover the following topics:
– Choosing the best TV for Your Viewing Environment
– The Benefits of Calibrating a TV
– An Introduction to AirPlay and Accessing Media in the iCloud
– AV Receiver Shopping Advice
– Analogue versus Digital Amplification
Entertainment
The first edition of TAVES will proudly feature performances by Dean Peer, a wonderful solo bassist accompanied by a drummer.  Peer is an exceptionally talented musician that takes the electric bass guitar sound to a new level, producing a distinct, engaging performance.  The exact details about Peer's performances will be posted on the TAVES website just before the show and will also be included in the show guide available at the event.  In the meantime, I invite you to check out Peer's website at www.deanpeer.com, where you can check out videos of his performances and purchase vinyl, CDs, digital downloads and other items.  Even more videos can be found by doing a search for "Dean Peer Salon Son et Image" on YouTube.
Stuff to Buy
There will be no shortage of audio video brands to explore on the TAVES show floor but most visitors won't be purchasing any big ticket items right at the show, these types of items can be purchased from local dealers after the event.  You'll learn exactly who the dealers carrying your choice of brands are at the show.  TAVES will however offer tons of smaller ticket items which you'll be able to purchase right on the spot including things like audio video accessories, cables, vinyl, CDs, Blu-ray discs and others.  This way everyone can take home a souvenir from the show!
Explore TAVES With Us!
The amount of planning and effort that goes into organizing an event like TAVES is difficult to describe.  I sincerely hope to see all the CANADA HiFi readers that live in the Toronto area attend the show – it would truly mean a lot to myself and the rest of the TAVES team.  You have my word that you will be entertained and learn some very interesting things!  Please help us make the first edition of TAVES a success so that we can continue to grow this wonderful industry in Canada for years to come.  For more details about TAVES please visit www.taveshow.com.  The "Visitors" section of the website now features a brand and exhibitor list which is updated nearly every day.  A number of new show features will be added in the next few weeks, so please check out the TAVES website regularly.
$5 Off Tickets Coupon
The regular price of admission to TAVES is $20, however you can save $5 with a very easily accessible coupon.  The coupon is available in this very issue of the CANADA HiFi magazine (as part of the TAVES ad) and will be distributed in a postcard format at most independent audio video and music retailers in the Toronto area.  A list of participating retailers will be posted on the TAVES website a little closer to the show date.  If you can't get your hands on an issue of the magazine or the postcard coupon, the ticket booths will gladly accept a low quality print out of the coupon from a digital edition of CANADA HiFi which you can find at novo.press/.
To view a complete list of brands and exhibitors at TAVES please visit www.taveshow.com/Visitors/information.html