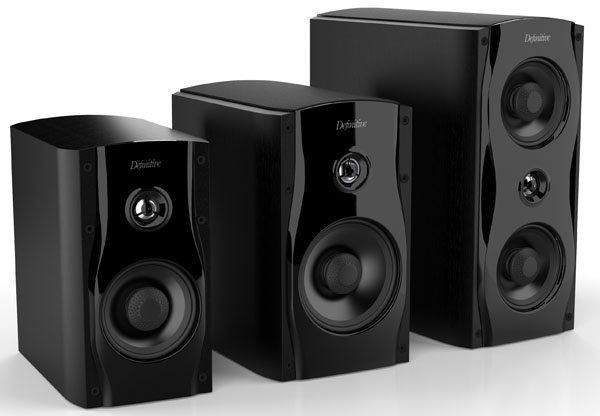 Definitive Technology has just announced that it will introduce seven new products at the CEDIA Expo industry event (September 8 – 11, 2011).
StudioMonitor Speakers
Among the seven new products are three new StudioMonitor bookshelf loudspeakers. The SM45 ($199 ea. MSRP), SM55 ($299 ea. MSRP) and SM65 ($399 ea. MSRP) replace the existing StudioMonitor 350 and 450 models and are the first new bookshelf-style speakers from Definitive in nearly ten years. Every part of every new model has been redesigned and improved for improved appearance and performance. All three new models feature Definitive's latest generation patented Balanced Double Surround System (BDSS) bass/midrange drivers as well as Definitive's latest Pure Aluminum dome tweeter for dramatic upgrades in accuracy, detail retrieval and life-like imaging. The SM55 and SM65 employ top-mounted bass radiators to augment low-frequency response for deep, precise and powerful bass performance not usually found in such compact speakers. The new SM product line will ship to US and Canadian retailers in Q4 2011.
SuperCube Subwoofers
CEDIA attendees will also have an opportunity to see and hear two new Definitive subwoofers, the latest models in the acclaimed SuperCube series of ultra-compact enclosures known for having the bass output of subwoofers twice their size. The SC4000 ($799 MSRP) and SC6000 ($999 MSRP) occupy, respectively, under and barely over one cubic foot of volume, making them perfect for in-cabinet installations or anywhere space is scarce.
Thanks to improved active drivers, all-new Class HD high-power amplifiers and a 56-bit micro-processor preamp stage with DSP, the new subwoofers enjoy vastly improved performance compared to previous models. As well as being powerful, the new Definitive subs are environment-friendly. When in idle mode the SuperCubes draw a half Watt of current or less, meeting international standards for low energy consumption.
The most obvious departures from previous SuperCube models are the addition of a digital display (cleverly hidden under the grille) and a wireless remote. Together they are a performance optimizing tool for perfectly blending the subwoofer with the main speakers and room as well as changing bass level "on the fly" to adjust for differences in program material.
As well as improved performance and features the new SuperCubes offer a wireless connectivity option with the purchase of the Definitive SCW 100 wireless kit ($149 MSRP) consisting of a transmitter and a receiver that plugs into a slot on the sub's amp panel. Custom integrators will also appreciate the 12V trigger jack for whole system turn on as well as the IR repeater input to facilitate in-cabinet installations.
Along with the SC2000 introduced by Definitive earlier this year, the SC4000 and SC6000 replace the SuperCube III, SuperCube II and SuperCube I. The new models are shipping to Definitive dealers worldwide in September 2011.
Mythos XTR Sound Bars
Topping of the new products to be shown at CEDIA are two new models of Mythos XTR on-wall component loudspeakers: the XTR-SSA3, a three channel L/C/R sound bar, and the XTR-SSA5, an ultra-slim five-channel surround bar. Both models are component loudspeakers designed to be used with a surround receiver and powered subwoofer.
The XTR-SSA5 (MSRP $999) features Definitive's exclusive Spatial Array, a patented technology that optimizes the spatial presentation of five channels to create the illusion that the listeners are surrounded by five separate high performance speakers. The XTR-SSA3 (MSRP $799) uses Spatial Array technology on the Left and Right channels to widen the soundstage well beyond the width of the speaker itself.
The addition of these new models brings the Mythos XTR series up to six models, the most complete line of ultra-slim high performance loudspeakers on the market.
The XTR-SSA3 and XTR-SSA5 are only 1-5/8? (4cm) deep, perfect for use next to ultra-slim TVs, and yet they provide the high definition detail, bass and dynamic range performance of full size speakers. All XTR model enclosures are fabricated from hand polished aircraft grade extruded Aluminum which is attractive, space efficient and has superior sonic characteristics.
Both XTR-SSA models come supplied with a wall mount bracket as well as adjustable supports for horizontal shelf placement that allow the speaker to be raised up over protruding TV shelf stands. Whether mounted on-wall or on-shelf, the Mythos XTR-SSA series speakers look terrific and sound astonishing.
The secret to the XTR's extraordinary performance is Definitive's patent-pending XTDD technology driver. Using state-of-the-art computer modeling and decades of speaker design experience Definitive engineers eliminated every iota of wasted space, optimized every part and maximized the moving surface area of a dynamic driver to shrink it down to a seemingly impossible compact dimension without giving up ultra-high performance audio fidelity. The XTDD driver has the kind of dynamic punch, wide frequency range and broad dispersion previously unheard of in shallow drivers.
For more info please visit www.definitivetech.com.