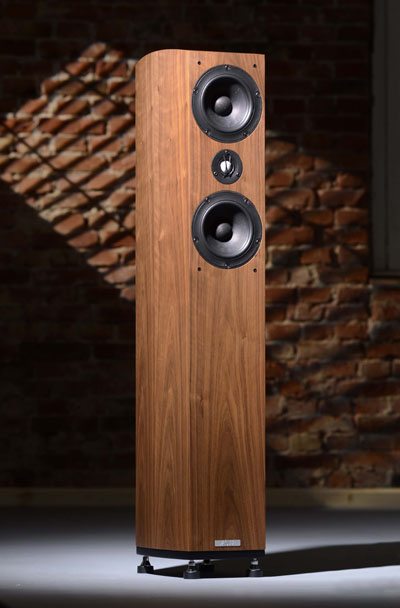 Rectangular floorstanding speakers don't leave much room for innovative style. German manufacturer ASW has done a good job here by offering a huge range of 16 fine finishes, gently convex sides and top and a very clean front baffle design. My review pair came in a rich cherry finish which exactly matched my wall unit. It looked great in my living room.  ASW provides two sets of feet – both spikes and flat feet – which are barely visible from the front or sides. It goes without saying that the fit and finish are excellent.
ASW (for Accurate Sound Wave) was founded in Vreden in 1987 and is distributed here in Canada by Tri-cell Enterprises. The 310 loudspeaker ($3,200 – $3,650, depending on finish) is part of the Genius series, which starts with the 110 bookshelf and is topped by two larger floorstanders, the three driver 410 and five driver 510. The Genius series is completed by the AS 10 subwoofer and 210 centre speaker. The Genius series sits above the Opus and Cantius series but below the Referenz series. In addition to loudspeakers, ASW will also be happy to sell you its Ambitus equipment racks.
The Genius 310 replaces the earlier Genius 300. I can't tell you how the sound compares but the looks have taken a giant step forward. On the earlier model, straight angles, too much metal showing and a rather awkward pedestal may have spoken wonders for efficiency but would have won no prizes. The new speaker is shorter, narrower and deeper, and scales in at 17.5kg, down from 22kg. The low frequency extension and efficiency rating are both slightly down but I found the 310s to comfortably exceed their paper specifications on both counts. The 310, like many other ASW models, uses a D'appolito array, which means the tweeter is set directly between two identical bass/midrange drivers, located above and below. This configuration is said to reduce interference between the woofers and the tweeter and permit a very smooth phase response. It also goes a long way to emulate the ideal point source, although not quite as far as speakers with concentric drivers. That should help with the imaging characteristics of the speaker. Having two woofer/midrange drivers also reduces the strain on each one so you may expect higher maximum volume than from the more common 2 driver setup. The dome tweeter which features a ceramic coating is protected by two metal hoops against inquisitive children and tall dogs. Two sets of high quality speaker connectors are provided for biwiring or you can use single wires with the supplied jumper cables. I used Nordost Valhalla biwire cable with banana terminations for my tests.
With a sensitivity of 90 dB this is a very efficient speaker so it should be easy to drive, right? Not necessarily. It is also a low impedance speaker so you need to be sure your amplifier is comfortable with a 4 ohm load. I tried a couple of amps. The big ModWright KWA 150SE, a silicon based powerhouse, can handle just about any speaker on the planet with ease, and was very happy here. The second amp was a tube amp, with separate outputs for 4 ohm and 8 ohm speakers. The 4 ohm tap proved an excellent match for the 310 as expected but with the 8 ohm tap the amp was not able to drive the 310 so successfully.  This is no criticism of the 310 but par for the course for many tube based amps, and that's why they offer multiple taps. Most transistor amps will take the 4 ohm load in their stride, but not all. You should try before you buy. This speaker doesn't need a lot of power, just give it a few high quality watts and it will be happy.
The 310 is a rear ported speaker so you should leave space between it and the back wall. I found it worked best angled slightly in towards the listener. Like most speakers it benefits from 50 hours or so of break in but I found the sound immediately impressive. It is a speaker that shows no sign of strain, no noticeable distortion at normal listening levels and it throws an impressively wide and deep image. There is no lack of instrumental colour and with its two small woofers, it seems to be able to start and stop on a penny. Or it would if Canada hadn't just stopped minting pennies. It was unfussy about the type of material I called on it to deliver, and it was room friendly. By this I mean I could walk around the room and the image suffered no sudden falloff. It is not particularly sensitive to being placed in exactly the right spot as some larger speakers often are, which makes it easy to get optimum sound.
Now let's dive into the listening tests. I found the Genius 310 consistently enjoyable and musical. I enjoyed its excellent and stable imaging and the rich colour of the various voices and instruments on my test recordings. I cannot fault it in fact, since its imperfections do not lie in the area of doing things wrong (smearing, collapsing the image, distorting, honking, clipping). One can only say that it doesn't reveal all there is to hear on the recordings. It has obeyed the Hippocratic Oath – "First, do not harm".
Was there any area of weakness? If I had to be critical I'd say it doesn't have the dynamic wallop of some more expensive speakers and it doesn't represent the last word in resolution. Presentation in terms of observed frequency response in my room was distinctly different to two other pairs of speakers I had to hand, both more expensive than the Genius 310. The reference YG Carmel ($18,000) and the new Totem Ember ($4,200) sounded more similar to each other in this respect than to the ASW. The ASW seemed to have a more prominent midbass and midrange with a lighter deep bass and less treble openness. These characteristics are most obvious in the percussion. Brushes on cymbals were drier here, and the deep thwack of the bass drum, while pitch accurate, was less prominent in its impact. In practice the overall shape of the response curve is far less important than its smoothness – the absence of big dips and peaks, and there is no problem in this regard.
Afrocubism [Nonesuch 2-525993] is getting plenty of rotation in the Gold residence these days, at least, when I haven't left it in the car. If you haven't treated yourself to this superb CD yet, what are you waiting for? Track 14 is a wonderful deconstructed version of "Guantanamera", and it's a perfect test track for acoustic instruments – Bassekou Kouyate on ngoni, Eliades Ochoa on guitar and Toumani Diabaté on kora. The 310 creates a very wide soundstage and a very open acoustic sound, full of rich colour. You will certainly feel the magic with these speakers.
If a speaker can't excite you on the best produced Beatles album Love then it's game over [Capitol 0946 3 79810 2 3]. This one most certainly does.  "Because" opens the album with just the voice track and some passing birds and bees. The reference YG Carmel speakers do a better job of revealing the individual voices, which come across here as tight harmonies rather than a collection of individuals, but that doesn't detract in the least from the fun. The imaging is great and the vocal tone is extremely realistic – you really feel the boys are in the room with you. "Bluebird/Yesterday"  brings fine guitar sound and a very clear presentation of Paul's voice and the accompanying strings. The Carmel dispenses with the very slightly nasal tone with which the 310 colours the vocal line, and puts more texture onto the strings with improved dynamics all around (the difference between loud and soft), but remember the Carmel is about 5 times the price. "While My Guitar Gently Weeps" is gorgeous with its slightly fat middle bass supporting the whole structure and the gentler dynamics emphasizing the sheer beauty of George's masterpiece.
What about something a bit more raucous? In my day you were either a Stones fan or a Beatles fan – you couldn't be both – certainly not in public. Beatles were pop and the Stones were rock. Such generalities are seen now to be simplistic. The Stones had their lyrical moments – think "Lady Jane", "As Tears Go By" while The Beatles brought us "Helter Skelter" and "Back in the USSR". Today we recognize a golden age and we can love them both without embarrassment. One of my favourite albums is Let It Bleed, which along with a bunch of other Stones albums, I bought on SACD [ABKCO 90042]. "Love in Vain" is a good example of a surprisingly tender offering from Mick and the lads. Jagger's voice comes across in all its raw glory. The band sounds easy on the ears, offering a warmer, deeper balance than my reference speakers. "You Can't Always Get What You Want" combines the London Bach Choir, Madelaine Bell, Doris Troy and Nanette Newman with the regular band plus the great Al Kooper on piano, french horn and organ. It's a blast here, with great attack and everything holding together exceptionally well in a complex production. I prefer the choir here to the reference speakers, which more readily reveal some poor miking and mixing decisions.
For top notch female vocals look no further than Jennifer Warnes  – The Well [CISCO SCD 2034]. On the title track her voice is deeper and softer through the ASW, and the cymbals are lower in level with lower harmonics. But the bass guitar is excellent and the image holds up well. "Too Late Love Comes" doesn't match the impact that the Carmel's bring, the perspective being a bit set back and the accompaniment warmer than through the reference. It's a different perspective but still striking and moving in a way that escapes many transducers.
On a massive orchestral work like Shostakovich's Tenth Symphony [Naxos 8.572461] the frequency balance is immediately noticeable – the treble being somewhat set back and the midrange and midbass more forward than my reference speakers. Cellos gain weight and wind instruments sound superb. The atmosphere is suitably chilly but the threat coming from the deep bass is somewhat reduced. Particularly impressive is the way these slim speakers fill the room with a deep and wide image which does a lot to transport you to the concert hall. Even though dynamics are not this speaker's forte, it holds up well at the climax even at high listening levels, so I have to give it a high score on this difficult and complex material.
This speaker is certainly highly competitive. The most common failing in contenders in this price bracket is not where you might look first. It's not the midrange, where the huge bulk of all sound comes from. There are many excellent midrange drivers around, and designers have learned how to build cabinets around them to allow these drivers to strut their stuff. Speakers show a lot more variability in the bass but the key area is the tweeter and its integration with the other drivers. That's where you get many peaky responses that can sound fatiguing, or phase incoherency that can give a speaker an unnatural feel and reduce the chances of producing a strong coherent three dimensional image. Even though hardly any instrument will create its fundamental tone within the tweeter's bandwidth, the harmonics from many instruments do reach the tweeter's operating area, and it is in the accuracy of reproduction of these harmonics that the true colour of voices and instruments really lie. Transient response must also be fast enough to keep up with the music or it becomes lifeless, and it must be similar across all frequencies. It can cost a lot of money in crossover components alone, never mind money spent on the tweeter, to get a good result here. While the high frequencies are not as open or as high in resolution as from the reference Carmel, the top end here is very well behaved overall, leading to high marks in so many areas of sound as noted in the listening test. This is a speaker you can listen to for long periods without fatigue, and that's always a good sign.
So here you have a very accomplished speaker offering fine sound at a reasonable price in a superbly finished and attractive chassis. It's a refined component that serves a wide range of musical tastes and placing few demands on your listening room or your amplifier. Thumbs up from me.
ASW Loudspeaker
www.asw-loudspeaker.com
Distributed in Canada by Tri-Cell Enterprises, www.tri-cell.ca
1-800-263-8151
ASW Genius 310 Loudspeaker
Price: $3,200 CAD (standard finish), $3,650 CAD (premium finish)