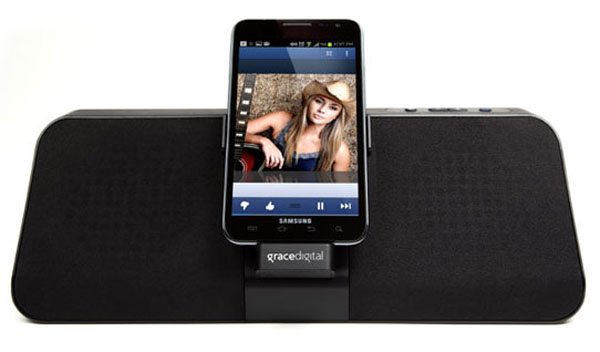 Grace Digital has just announced the gdock Speaker Dock for Samsung Galaxy devices. The gdock device features full-range stereo speakers with a built-in charging dock system for Samsung Galaxy S II, S III, Note I and Note II.
Specifically designed for all of Samsung's "Next Big Things", the gdock Speaker Dock simultaneously powers, charges and plays audio from your Samsung device. The gdock comes with interchangeable station cradles for the Galaxy S2, S3, Note 1 and Note 2. Once docked, the devices can be rotated for vertical (portrait) or horizontal (landscape) viewing angles. Top panel buttons allow for volume and power control of the gdock, while the infrared remote provides easy cross room operation. Runs on AC power or you can opt for Grace's rechargeable lithium-ion battery for 12 hours of portable playing time (sold separately).
Grace Digital gdock Speaker Dock for Samsung Galaxy devices features include:
• Power, charge and play music from your Samsung device all at the same time
• Docking cradle rotates to allow for horizontal or vertical viewing angles
• Includes interchangeable cradles for Samsung Galaxy S2, S3, Note 1 and Note 2 and supports all carrier versions of the phones
• Two 3" full-range stereo speakers, 16W of total power and Class-D amplifier
• Top panel control buttons, infrared remote control and includes an AUX-in connection allowing the use of alternative audio devices
• Rechargeable lithium-ion battery sold separately
The gdock Speaker Dock for Samsung Galaxy devices is available today for $129.99 US (MSRP).
For more info, please visit www.gracedigital.com