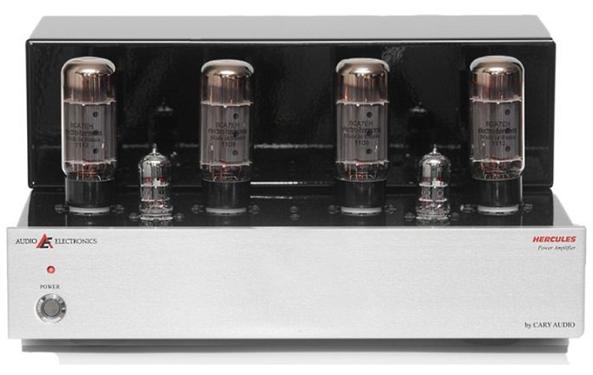 Audio Electronics, a recently revived brand by Cary Audio, has just released their new Hercules power amplifier.  The Hercules is an ultra linear tube amplifier that utilizes four EL34 output tubes to produce 30 watts per channel. 
This new power amplifier is said to incorporate premium components with a very simple signal path to ensure sonic purity as well as long-term reliability.  Using a specially built power supply that is mated to custom output transformers the amplifier is heavily biased in Class-A.  Bass and transient response are stated to be excellent. 
The differentially-balanced input section reduces noise, and a cathode-bias function assures the best possible performance from tubes at all times and allows the amplifier to run in Class-A over a larger power range. An automatic mute/standby circuit ramps up the voltage to the tubes gradually for longer life; it also removes any pops or noise at turn-on.  The objective of the design is a to provide a musically accurate and satisfying experience with high-end performance at reasonable prices.
Weight: 45 lbs.
Dimensions: 13" L x 14.25" W x 7.5" H
The Hercules power amplifier is currently available for purchase at a MSRP of: $1,895 U.S.  More details are available at: www.caryaudio.com or www.aebycary.com.