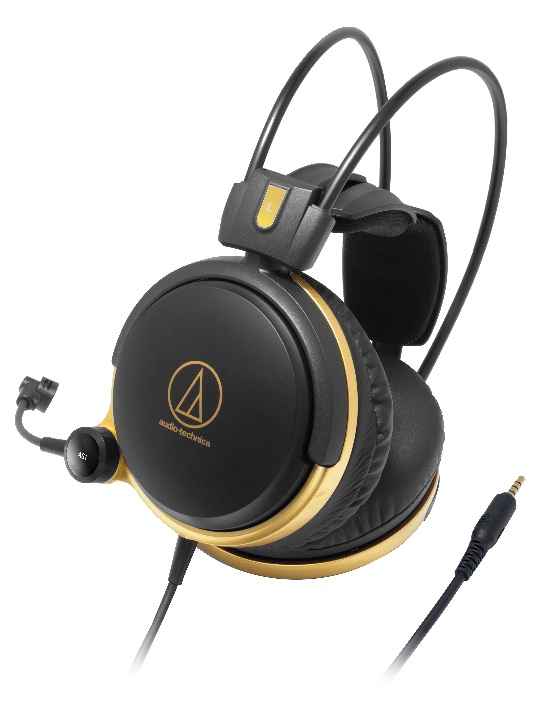 Audio-Technica has announced that it is now shipping its first-ever gaming headsets. The closed-back ATH-AG1 and open-back ATH-ADG1 are premium-quality headphones that incorporate elements from the company's audiophile models. Both models include a built-in microphone and a detachable USB DAC/headphone amplifier, plus additional gaming-specific features.
The ATH-AG1 and ATH-ADG1 leverage design and engineering from Audio-Technica's own ATH-A700 and ATH-AD700 audiophile headphones. The new gaming headphones use premium large-diameter 53 mm drivers with high-grade, bobbin-wound CCAW voice coils to deliver superlative reproduction of speech, special effects and soundtracks. The closed-back ATH-AG1 employs Audio-Technica's exclusive Double Air Damping System, which uses a main air chamber that houses the driver plus an additional chamber that controls and focuses the airflow produced by the driver, while also expanding and controlling its bass output. The open-air design of the ATH-ADG1 offers an even more spacious sound.
Each of the new models have a unidirectional gooseneck condenser microphone that delivers clear and intelligible in-game voice communication, swivels over a 100-degree path and has an integrated mute switch. Both feature a redesigned, self-adjusting 3D Wing Support Housing that perfectly adapts to the wearer's head for total comfort even during periods of extended use.
The ATH-AG1 and ATH-ADG1 come with a USB DAC that allows them to be directly connected to the USB output of a computer/laptop. They are also supplied with standard 1/8-inch (3.5 mm) TRRS mini plug and an adapter for direct connection to an iPad or a computer's sound card. The headphones have 3.3-foot (1m) cords and a 6.6-foot (2m) extension cords.
The new Audio-Technica ATH-AG1 and ATH-ADG1 premium gaming headphones have the same MSRP of $299.95 U.S./each. Look for more details at: http://www.audio-technica.com.
Comments are closed.