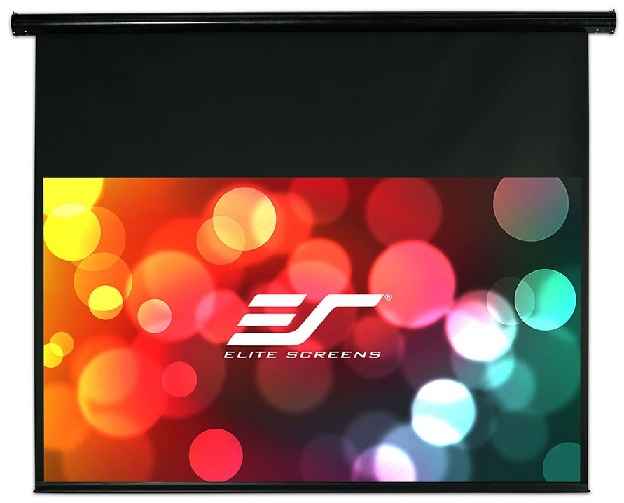 Elite Screens has just introduced their new Starling Series of electric projection screens. The new line is focused on providing high-quality at a more affordable price. The new Starling Series features a metal casing with either gloss white or black and has the Spectra White FG (fiber glass backed) matte white surface screen fabric with 160-degree viewing angle and 1.1 gain.
The Starling electric projection screen ships fully assembled with a complete set of Infrared and Radio Frequency Remotes, along with an in-line UP/STOP/DOWN control box switch. It's available in a range of sizes including 100″, 120″ and 135″ in a 16:9 HDTV format.
The new Starling Series is one of Elite Screens most comprehensive electric projection screen lines. Complimentary standard features include Infrared and Radio Frequency remote controls, wall/ceiling mount kit, and extra top black masking leader. There are a number of possible mounting options as the Starling Series includes an installation kit for wall or ceiling installations.
Features/Specifications:
• Spectra White FG (fiberglass backed) matte white surface
• 160° wide viewing angle with 1.1 Gain
• Standard black masking borders and black backing
• Diagonal sizes include 100″, 120″ and 135″ in 16:9 HD format
• Extra top black border for high ceiling installation
• Infrared (IR) remote control
• Radio Frequency (RF) remote control
• In-line 3-position wall switch
• Smooth, quiet up/down operation
• Durable arcuate housing in white or black finish
• Includes pair of brackets and hardware for wall or ceiling installation
• Wall mountable remote control cradle included
• Bottom weight bar completely hides inside case
• Plug & play, hardwire installation not required
• Synchronous motor allows silent operation with extended operational longevity
• Low power consumption
• 2-year warranty from defects in workmanship
• 3rd year warranty offered through ENR-G program (Education, Non-Profit, Religious, and Government/Military).
The new Elite Screens Starling Series of screens is currently available with pricing starting as low as $299 U.S. Look for more details at: http://www.elitescreens.com.
Comments are closed.