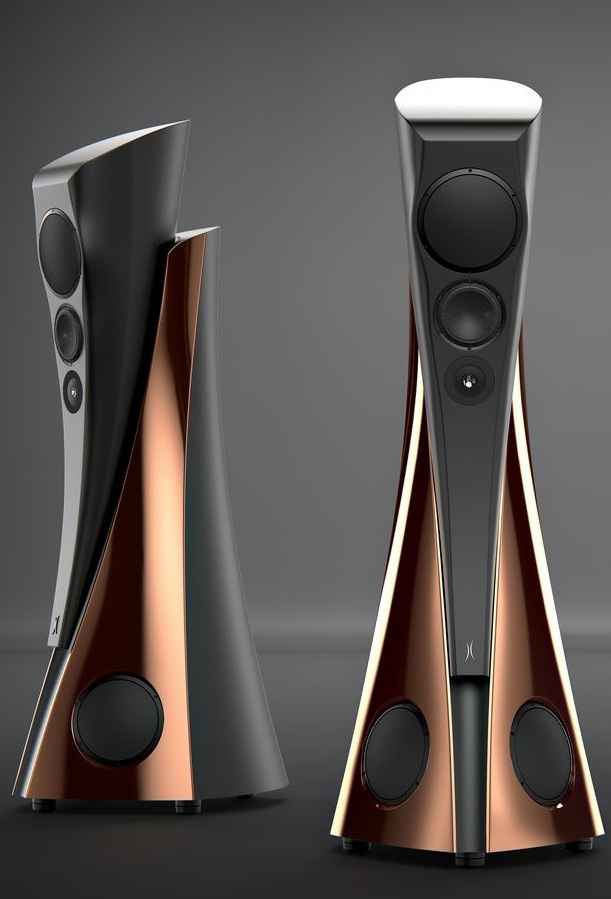 The Estonian company Estelon will be hosting the world launch of their new Extreme hi-end loudspeaker at the Munich Hi-End Show this May 15, 2014. The new Estelon Extreme loudspeakers are very extravagant in appearance and will take the place of flagship within the Estelon fleet.
The new Extreme is a "no compromise" design that incorporates the best components and materials available, within a cast enclosure of composite marble. The shape of the Extreme, along with making a strong visual statement, was chosen to ensure sound waves flowing around the speaker encounter no sharp edges. The interior has been optimized for preventing interference with sound waves. The cabinet height can ve adjusted between 170 and 200 cm to adapt for any given listening room. Adjustment to height are performed by moving two independent chambers relative to each other. The lower chamber houses two 10-inch low frequency drivers with aluminum membranes, while the upper chamber contains a 10-inch mid-woofer with aluminum cone along with a 7-inch ceramic midrange driver and a diamond diaphram tweeter.
The Extreme is claimed to have a full-range frequency response from 20 Hz to 45 kHz. While the Extreme appears slender, its looks are deceptive, as it has a weight of 250 kg/speaker. The estimated retail price of the new Estelon Extreme is approximately €150,000. North American availability and pricing is yet to be announced.
Look for more details on this product at: http://www.estelon.com/
Comments are closed.