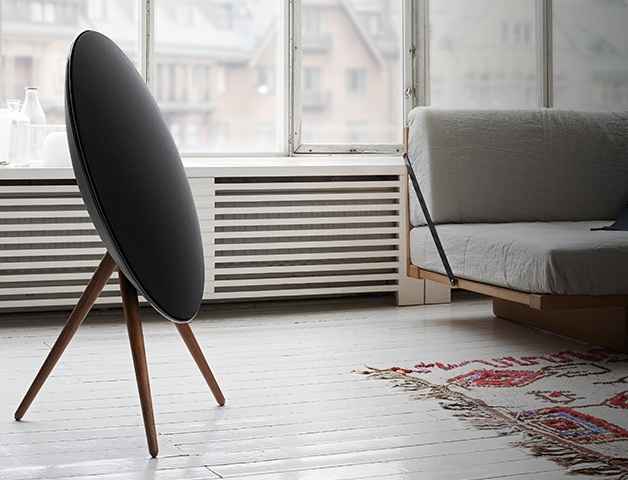 Bang & Olufsen has just announced a new model of their BeoPlay A9 – the BeoPlay A9 Black Edition. The original BeoPlay A9 was released in November 2012, having a very unique and elegant form factor and the ability to change its appearance depending on the cover and legs chosen.
Now B&O PLAY adds a subtle but significant change to the product with a black back side, instead of the regular white back side. In addition, a black anodized aluminium speaker ring replaces the previous silver metallic speaker ring. Overall, this provides a more dramatic – perhaps even masculine dimension to BeoPlay A9.
While the appearance of the new BeoPlay A9 Black Edition is the most exciting addition, the A9 internally contains the best-in-class technology and with the recent addition of Spotify Connect, BeoPlay A9 provides on-demand digital access to more than 20 millions songs at the touch of a single button.
BeoPlay A9 is a one-point music player that streams through both AirPlay with iOS devices and DLNA with Android devices. The sound system packs a hefty 480 watts digital Class D amplifier system with separate amps for each of the 5 built-in speaker units. Included in this is an imposing 8-inch unit that lays down authoritative and tightly controlled bass through the bass port reflex construction hidden behind the unit. Using B&O's patented Adaptive Bass Linearisation technology, the BeoPlay A9 is aimed at delivering accurate and powerful bass at all listening levels – with a digital algorithm monitoring and adjusting the bass signal to root out distortion.
The BeoPlay A9 can be adapted to fit your taste and preference. It can be set on its wooden legs or wall mounted and the cover can easily be changed to a colour meeting your preferences and decor needs. Choose from 7 different front covers and 3 different types of legs.
B&O PLAY has changes the selection of wood to reflect current market trends. Teak has been replaced with walnut and beech replaced with maple, going forward. Walnut is a popular choice with those who prefer a darker interior styling while maple is a very white to slightly yellowish and ivory colour, making a less dramatic statement.
The new BeoPlay A9 Black Edition is priced at $2,699 U.S. and currently available. Look for more details at B&O PLAY online: http://www.beoplay.com/.
Comments are closed.