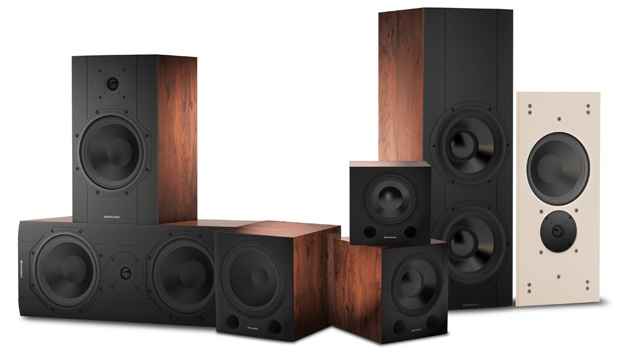 Bay Audio, just announced the introduction of their new PTM+ home theater solution. Distinguishing the PTM+ line from competitor systems is the fact that the PTM+ line pairs premium loudspeaker technology with collaborative specification and onsite factory tuning, which are two critical stages of the theater design and build process.
The Bay Audio PTM+ speakers were developed with the expectation that Bay Audio's factory-trained personnel would tune each system, where installed – allowing the engineering team to design the PTM+ line with greater headroom, lower levels of distortion and smooth off-axis dispersion. The Bay Audio PTM+ lineup is fully customizable to accommodate each installation. Standard models/sizes include a compact, high output monitor, center channel, in-wall loudspeaker, bass staging module and subwoofers in three sizes. Advanced design elements include 1-inch thick MDF cabinet walls that are veneered inside and out and multiple internal braces to lock all cabinet walls in place and eliminate unwanted resonances. PTM+ loudspeakers also include an energy dispersion pad behind each premium grade driver to absorb unwanted vibrations. The PTM+ loudspeakers utilize tuned crossover networks with 5% resistors, 250V polypropylene capacitors, high-quality bypass capacitors and 12-gauge internal wiring.
To provide the ultimate home theater experience, Bay Audio dispatches a trained technician to each completed PTM+ home theater installation in order to correctly calibrate output levels, equalization, time alignment and any other adjustable parameters of the system. Factory tuning the systems on site delivers the utmost value to consumers. Pricing on the PTM+ home theatre loudspeaker line-up has not been announced; however, further details on the products are available at: www.bayaudio.com.
Comments are closed.