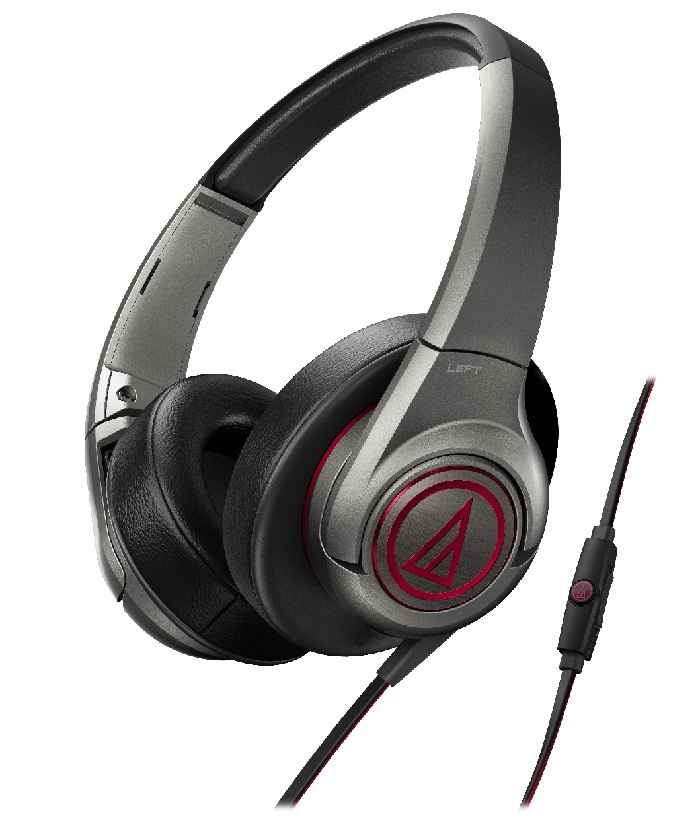 Audio-Technica has now announced that it is shipping its SonicFuel AX over-ear headphone.  The new headphone offers sleek, comfortable design, superior sound quality and three models with smartphone and iPhone compatibility i.e. the ATH-AX5iS, ATH-AX3iS and ATH-AX1iS models with microphones, and ATH-AX5 and ATH-AX3 without microphones.
The ATH-AX5iS, ATH-AX3iS and ATH-AX1iS have universal smartphone compatibility – including Apple, Samsung, HTC and more. And, with built-in microphone and a cord-mounted remote make listening to music and handling calls a breeze – as simple as pressing the "Audio-Technica" button to activate the mic or scroll through music tracks.  All headphone models feature swiveling earcups for a perfect over-ear fit, and the ATH-AX5iS/ATH-AX5 and ATH-AX3iS/ATH-AX3 models have a padded headband for additional comfort.
The top-of-the-line ATH-AX5iS (MSRP $89.95 U.S.) incorporates large 40mm drivers in an aluminum and ABS housing and available in two finishes: black with blue accents and gun metal with red accents.  The headphone comes with a matching flat, tangle-free cord and a carrying pouch.
The ATH-AX3iS (MSRP $59.95 U.S.) features a 40mm driver; comes in black, navy blue with orange trim, and red with black trim, and has a flat, tangle-free cord.
The ATH-AX1iS (MSRP $39.95 U.S.) features a 36mm driver and comes in five colour combinations: black, white, red with black trim, blue with black trim, and gray with green accents.
The ATH-AX5 and ATH-AX3 (MSRP $84.95 U.S. and $54.95 U.S.) have the features of the corresponding "iS" models but without the built-in microphone and smartphone functionality.
All models are currently available.  Look for more information at: www.audio–technica.com.
Comments are closed.