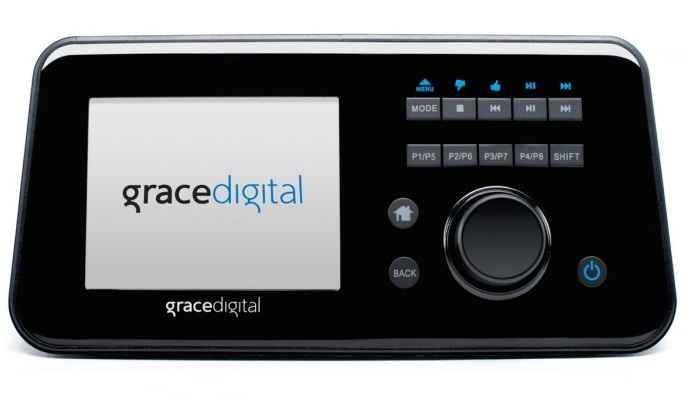 Grace Digital Inc. has just introduced its new Primo Wi-Fi Media Streamer.  This new device provides access to 50,000 plus radio stations, podcasts and on demand content and can be controlled by an iPhone or Touch.  All that's needed is a simple connection to an existing stereo or set of powered speakers.  With Wi-Fi connectivity, the Primo is easy to setup and within an instant can be providing access to online services such as Pandora, Live365, SiriusXM, Rhapsody, or saved music from a PC or Mac.
The Primo's LCD disply is colour and high contrast, which provides a vivid, easy-to-read interface.  Grace Digital has essentially brought together the features of their Solo and Mondo within the new Primo to deliver the best of both worlds.
The Primo is equipped with high quality RCA jacks that are compatitble with virtually all music devices.  Using the Grace Remote Control app, the Primo can be controlled with an iPhone or Android device – including changing volume, tracks, stations, powering on/off and even setting the alarms.
Key Features:
Access to 50,000+ radio stations, podcasts and On-Demand programs or your personal Pandora stations
Connects to any 802.11b/g/n wireless router
Includes RCA jacks, compatible with any home stereo system, speakers, or headphones
Equipped with full function remote control or download the free Grace iPhone or android remote control aps
Up to 110 stored stations, easily searchable on the color LCD display
Supports online music services including, Pandora, Live365, Rhapsody & SiriusXM internet radio and saved music from your PC or Mac
The Primo is available now for $149.99 U.S.  For more information about the Grace Digital Primo please visit: http://www.gracedigital.com/.
Comments are closed.