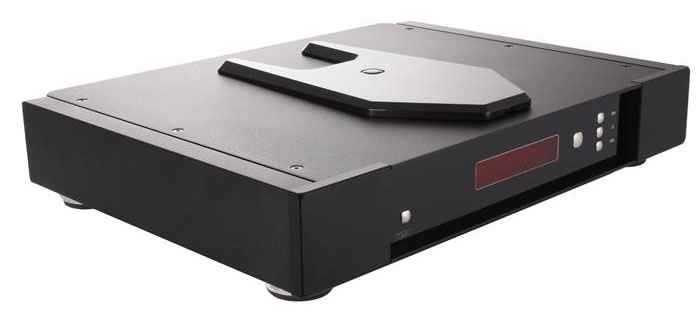 Rega has consistently produced products that stand the test of time, and which sport the simplest of controls. While most manufacturers use some kind of motorized drawer to get the CD in and out of the system, and a few use a motorized slot based mechanism, some have chosen the top loading route, as Rega has done. I have little patience with most top loaders – they often require you to add a puck which can easily be forgotten or lost. I've always liked Rega's no nonsense mechanism, with a hinged lid that incorporates its own clamping. In this iteration, Rega has used an articulated design which requires minimal free space above the top surface. Very neat, although I found it a little more difficult than earlier Rega CD players to grab hold of the disc from the platter. But it's easy to use, quick and reliable and it looks good. To add to these ergonomic pluses, the front panel is simplicity itself. A large button for on/off, a large button for play, and three smaller buttons arrayed vertically for previous, next and stop, with a modestly sized status display. It's different, but again it all works very well.
This unit is really two components in one – the Rega DAC, which I reviewed earlier in these pages, upgraded in a few areas, and a top loading transport, all housed in a sleek low profile, full-width black chassis, whose edges are neatly chamfered. The Solaris R system remote control unit is a very well laid out plastic wand with a total of 45 buttons, four of them bidirectional (filter, DAC input, preamp input and volume).
Rega offers a range of four CD players. This one is in the middle and sells for $3,299. At the top of the scale sit the Isis and its near twin, the Isis Valve, three times or more the price of the Saturn-R, while the entry level Apollo-R is around one third its price. All feature top loading drive units. Rega is perhaps most famous for its extensive range of high performance turntables, tonearms and cartridges, but offers a full range of components including speakers and amplifiers. The box proudly proclaims "Rega – Made in England", where the company has been in business since 1973 when Roy Gandy first introduced the Rega Planet turntable.
When you pop a disc into the recessed well and close the lid it takes about 8 seconds to read the table of contents, about average for a CD player. But to my surprise, when you subsequently press play there is a further four second delay before the music starts, although switching from track to track is instantaneous. Other than that, I found no operational quirks. Unusually, you get a choice of five different digital filters, but I found the differences to be minor, and my preference for filter number 4 (an anodizing option) may not match yours. Rega suggests starting at number 1 and trying each in turn.

This is not just a CD player, although it certainly works well in that role. It has a full functioned DAC inside too. Well perhaps not full functioned, since it does not support the new trend for DSD streaming. Rega deliberately does not include any upsampling options, since the company does not believe any real benefit derives from them. I would also like to see a headphone output, but that would of course add to the price. But you do get 5 digital inputs – 2 optical, 2 coaxial, and an asynchronous galvanically isolated USB input, all capable of accepting signals up to 192kHz/24bit, in addition to the direct feed from the drive unit. The Saturn-R offers unbalanced analog outputs and two sets of digital outputs, one marked DAC (from the digital inputs) and the other marked CD (44.1kHz/16bit), available in both optical and coax formats. One curious omission – there is no ground pin on the mains socket. I guess it is not needed, and certainly there were no issues with hum.
Twin Wolfson WM8742 DAC chips sit at the heart of the DAC section, fed by a sophisticated power supply. Twin WM8742 chips also contribute to the fine sound of the well regarded Cambridge Audio 851C CD player, although they are not as widely used as the ESS Sabre chips. It is not so much which DAC chips you choose, but how carefully you implement the circuitry and the quality of the power supply that really determines performance. Rega uses Wolfson chips here and in the Apollo-R and the Rega DAC, while the Isis has two Burr-Brown PCM 1794 chips and the top of the line Isis Valve has a different Wolfson DAC chip, the WM8741. Go figure.
I inserted the unit into my reference system comprising the EMM Pre-2 preamp, ModWright KWA150SE power amp and YG Carmel speakers which should be resolving enough to test the limits of the abilities of any digital source.
So how does the Rega hold up when viewed purely as an integrated CD player? I've been listening to it next to my old reference, the Meridian G08 CD player. You'd likely be very happy to own either one. Both offer fine value at their respective price points, they both look good and are easy to use, and both offer a forward presentation in an effortless fashion. For that matter, both hail from the UK, home of many other fine CD players from NAIM, Arcam, Linn, Musical Fidelity, Chord Electronics and Cambridge Audio to name just a few. There must be something in the air. Well maybe not, other than rain. But strong local competition in the UK market means you've got to keep your standards up if you want to be successful.
Bill Frisell's "Street Scene in a Frontier Town" shows the basic character of the Rega to a T – bright, clean, forward, and a wide but relatively shallow image. His "No Moe" does even better by offering more by way of image depth, while the familiar "Washington Post March" is lively with a strong image but not quite the same resolution that the Meridian provides. The Shostakovich Quartets illustrate the Rega's great pace but while avoiding the hard edge of some competitors it lacks the warmth the Meridian and the EMM Labs XDS1 reveal. The imaging here is awesome, and the background as black as you could want. Ali Farka Toure's "Bonde", recorded in collaboration with Ry Cooder, is again cool to the touch, with a strong heartbeat, very clean and quick. Image depth is lower than the Meridian on this track. The Overture to The Force of Destiny is Verdi in a nutshell – it starts off with a beautiful, delicate theme and then suddenly all hell lets loose.  What's not to like? The Rega offers nice air in the upper registers and realistic texture on the wind soloists, especially the flute. Although it doesn't covey all the detail and weight of the Leema Elements DAC, there is a lot of detail to enjoy and no sense of strain. Thelonius Monk was rarely well recorded, and often played on inferior pianos, but it all hangs together on "Blue Monk". The Rega reveals a strong sense of the original venue's acoustics with a full and open piano sound. The dynamics here are exemplary but as so often with Monk, there is some stridency to the sound that only the very best electronics can resolve.
To test the Saturn-R as a DAC I first installed Rega's XMOS USB driver and directed traffic using the JRiver Media Centre 17 software on my Dell laptop, which holds a large selection of music in a variety of digital formats. I heard a very clean treble and good presence and colour in the vocals and piano on the Astred Gilberto/Stan Getz classic "The Girl from Ipanima". The bass was fast but somewhat low in level but it contributed to a lovely warm sound. The one minor glitch I noticed occurred when playing another track at a different bit depth. The Rega would emit a short digital noise as it locked on to the new frequency. Freddy Kempff's Beethoven revealed a hard edge to his piano in the higher registers that was somewhat less perceptible through the Leema DAC I had on hand, while the image was also placed somewhat further back than through the Leema. "Yellow Car 3" on Patricia Barber's sonically amazing Café Blue displays the sharp reflexes you want to hear, and the tricky percussion comes through lifelike and detailed. The image width was exemplary although the image depth was around average. The dynamic range and bass attack trailed the Leema and the NAIM UnitiQute. The Rega was not well suited to The Buena Vista Social Club, since this really needs equipment which preserves or even emphasizes all the dynamic range. It emerges rather too polite here, lacking the excitement the EMM Labs XDS1 and the Chord Chordette QuteHD DAC provides.
Let's move on to the other digital inputs. I set up the Rega to act as a DAC to the digital output of the excellent Meridian G08, using a TosLink connection. By carefully calibrating sound levels, I could directly compare the performance of the Rega's DAC to the Meridian G08's integrated DAC section, which I know to set a very high standard. The Rega produced a sound entirely consistent with its USB input. It's a clean, wide bandwidth sound with quite high resolution and a strong sense of pace, but the Meridian's internal DAC offers a little more in terms of image spaciousness and colour, and somewhat greater dynamic range in the bass. Again this is a strong result entirely consistent with the relative price of the two units, and with the Saturn-R's place within Rega's product range.
I also reviewed the Rega DAC back in the spring of 2011, feeding it from the digital output of that same Meridian G08 CD player, and the two Rega components appear remarkably consistent in sound. The Saturn-R performs just like the Rega DAC through its regular digital inputs, but takes a sonic step up through the USB interface which now offers fully asynchronous operation. It also takes a step up in aesthetics, the new casework being slimmer and better proportioned.
I would give a slight edge to the Meridian G08 / Saturn-R combination over the Saturn-R as an integrated player, indicating the excellence of the special error correcting drive mechanism in the Meridian and the ability of the Saturn-R's DAC to reject any jitter in the digital stream. But these differences are minor and leave us with a very well balanced and wide bandwidth sound, the ability to resolve low level details, excellent pacing and a strong stable image in space.
The Saturn-R is a very neutral sounding animal, neither adding warmth nor veering to the clinical, two common faults. As such it is well suited to a wide variety of music. It may lose out in ultimate levels of detail, image precision, tonality and slam when compared to some considerably more expensive devices but it performs very well and I've heard nothing better at the price. Do try this at home.
Sidebar: Musical Selections
This was a chance to pull out of bunch of recordings I hadn't listed to lately. I selected Bill Frisell's Have a Little Faith [Electra Nonesuch 9793012], an excellent sounding and very eclectic musical selection, Ali Farka Toure's Talking Timbuktu [HNCD 1381] and Patricia Barber's Modern Cool [MFSL 2003]. For classical music I picked the famous André Previn recording of Carmina Burana, recently reissued in much improved sound on HiQ Records [HIQXRCD8], Shostakovich String Quartets [harmonia mundi HMG 508392.93] from the exquisite Jerusalem Quartet, heard last October in superb form at the St Lawrence Centre in Toronto, and Sinopoli's Gramophone Award winning recording of Verdi's La Forza del Destino [DG 474903-2]. You may think you've never heard that opera, and never will, but if you've ever enjoyed The Godfather, here is the inspiration for its famous theme. Toughest of all tests is the piano, so I've included a solo album by Thelonius Monk – Thelonius Alone in San Francisco [Real Gone Jazz RGJCD332]. All of these are killer albums in their own way, and deserve to be heard on equipment of this calibre. They offer outstanding sonics applied to phenomenal musicianship.
For digital streaming I selected the Buena Vista Social Club (96kHz/24bit), the superbly recorded Getz / Gilberto album (88kHz/24bit), Freddy Kempff's recording of Beethoven Piano Sonatas on BIS (88kHz/24bit) and another Patricia Barber album Café Blue (44.1kHz/16bit), albums that need no recommendation from me.
Rega Research
www.rega.co.uk
Distributed in Canada by Plurison
www.plurison.com
1-866-271-5689
Rega Research Saturn R CD/DAC Player
Price: $3,299 CAD
Comments are closed.