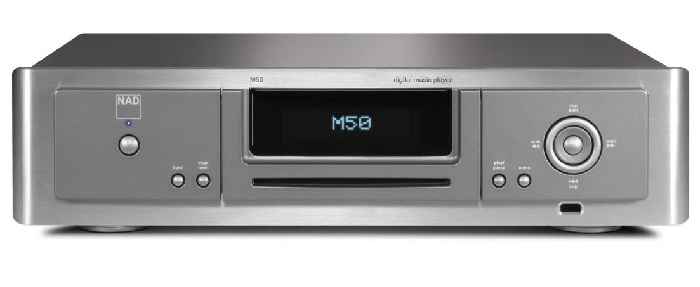 NAD Electronics has just added Spotify Connect to its Masters Series M50 Digital Music Player.  NAD M50 owners will now have an enhanced multi-room wireless audio experience with instant access to Spotify Connect's 20 million plus songs and playlists.
The M50 was designed to be a versatile, state-of-the-art network music player focused on providing owners with the ability to play high-resolution files up to 192kHz/24-bit.  Spotify Connect streaming, though no a high-resoultion source, does bring users the added benefit of accessing a huge repository of music, with millions of songs and playlists to meet just about any mood.  All this music via Spotify Connect can be accessed quickly and easily through the M50 using any iOS or Android device, while ensuring uncompromised performance.
NAD's M50 will offer Spotify Connect to Spotify Premium subscribers who want true high-performance fidelity on July 1, 2014.  Owners will need to upgrade their M50 Digital Music Player(s) to software version 1.10.0 and download the updated iOS App v1.10.0 or Android App v1.10.0 to be able to experience Spotify Connect.  The Remote app for the NAD M50 is currently available at the following sites: 
Apple iOS: https://itunes.apple.com/ca/app/m50-remote/id516102937
Android: https://play.google.com/store/apps/details?id=com.lenbrook.sovi.m50
For more information on NAD Electronics and other products, visit http://www.nadelectronics.com/.
Comments are closed.