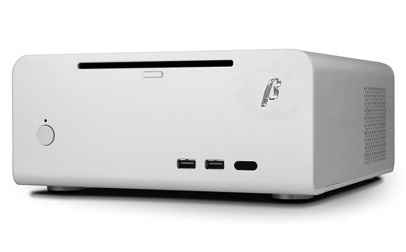 Baetis Audio has just introduced a new Revolution II Media Server. The Revolution II is an evolutionary step, over its predecessor, the Revolution.  The Revolution II includes upgrades to the CPU, motherboard, and ram of the Revolution, including 3rd generation Intel Core iX chipsets and DDR3 1600 RAM. The Rev II continues to provide digital audio outputs for both the 2-channel audiophile and the multi-channel.
The Revolution II continues to utilize JRiver Media Center software – with the capabilities including ripping and playing of Blu-ray files, and playing native DSD files that either are downloaded or professionally ripped from SACDs. Bit-depths up to 64 bits and resampling rates up to 384 khz are only available via JRiver on a high-powered computer, which the Baetis Revolution II is proposed to be.  
The Rev II utilizes special EMI-reduction material for its digital outputs, including 2 HDMI outputs (for multi-channel audio and/or video), and USB2.0 and USB3.0 ports.
The Rev II is designing to work with the very best linear power supply units (PSUs) and LiFePO4 battery-based PSUs. 
The Revolution II has a MSRP of $2995, in a black or silver all-aluminum chassis.  For more information, got to: http://www.baetisaudio.com/.