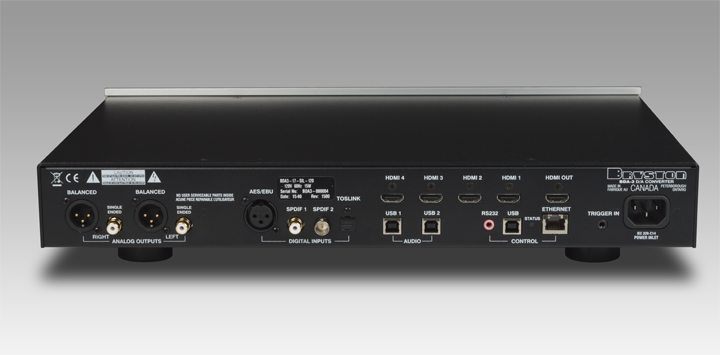 For perspective, I fed the BDA-3 with PCM streams from several reference CD transports and also compared it to a number of $5K to $15K-level tube and solid state outboard DACs.
With PCM signals, the BDA-3 separated individual instruments within a huge 3-dimensional soundstage and painted instrumental timbres with a palpable matter-of-factness and immediacy.
Its sound was direct and exact; as opposed to offering tube-like warmth and liquidity. Neutrality is its forte. It will tell you how good, bad, or downright ugly the sound quality of the digital signal that's coming into it truly is.
This DAC doesn't pull punches. If the recording's superb, it'll create a sound that will move your soul. If the sonics are ugly, the sound will make you cringe.
For DSD-encoded signals, I listened to several hi-res DSD versions of Patricia Barber's Modern Cool on SACD and hi-res files from my laptop and various portable digital media players.
The BDA-3 consistently recreated the complex rhythms of her songs 'Winter', 'Touch of Trash', 'Light My Fire', 'Post Modern Blues,' 'Let it Rain', and 'Silent Partner' with remarkably accurate PRaT, musical coherency, and exacting detail.
Achieving a believable sense of the striking micro and macro-dynamic rhythmic shifts contained within Barber's songs is a challenge to the best of sources. With most DACs, you can't hear—let alone feel—the subtle touch of her nimble fingers on the piano's keys and strings. The BDA-3 revealed the layered textures and timbres of individual instruments heard on Modern Cool with a realism and authenticity that was a pleasure to listen to.
The Dead Weather is a heavy-alternative super group comprised of Alison Mosshart (lead vocals), Jack Lawrence (bass), Dean Fertita (lead guitar), and Jack White (drums). Their debut album Horehound was released in 2009 and features heavy-handed guitar lines, aggressive rhythms, and inspired drums and percussion.
Their songs toss elements of the blues, psychedelic rock, and garage punk into a post-apocalyptic blender and pour out a sound that's fairly unique. If you liked what Jack White did with the White Stripes, you'll very likely enjoy The Dead Weather.
Bryston's flagship DAC rendered Mosshart's vocals with a stunning clarity and a knife-edged tension that was both captivating and, at times, un-nerving. With songs like 'Hang You from the Heavens', 'I Cut like a Buffalo', 'Treat Me like your Mother', 'Pony', and 'Will there be Enough Water?', the BDA-3 created an immense amount of sonic detail across the entire frequency spectrum. And, thankfully, this detail was harmonically accurate, while not causing the typical ringing high-band listening fatigue which most solid state DACs induce.
With hi-res DSD files, soundstage height, width, and depth were all physically larger with the BDA-3 in the digital playback chain. This enhanced 3-dimensionality included more accurate positioning of individual instruments within the soundstage. The result…? Music of many genres was consistently much more intense and involving.
The BDA-3's PRaT wasn't quite as smooth or warm as $10K+ level tube DACs. And yet, the BDA-3's dynamic range was reference caliber. On several occasions, this DAC's 'startle' factor when the volume increased from whisper-to-scream intensity levels, indeed, startled me.
Bryston's goals with the BDA-3 were: one, to unleash a reference caliber DAC for traditional audiophiles; and two, to also offer computer users top shelf 2-channel sound from USB and HDMI interfaces via state-of-the-art ultra high bit D-to-A conversion.
The BDA-3's low-level detail recovery, musicality, and neutrality are all reference caliber. With countless songs, Bryston's flagship DAC re-created the musicians' intentions with far greater clarity, insight, and perspicacity than I've ever heard before; especially with SACDs and native DSD-encoded digital files.
No other outboard DAC that exists today offers so many connectivity options, has such a goosebump inducing sound quality, and, by audiophile standards, has such a reasonable price.
Bryston BDA-3 DAC (Digital-to-Analog Converter)
Price: $3,495