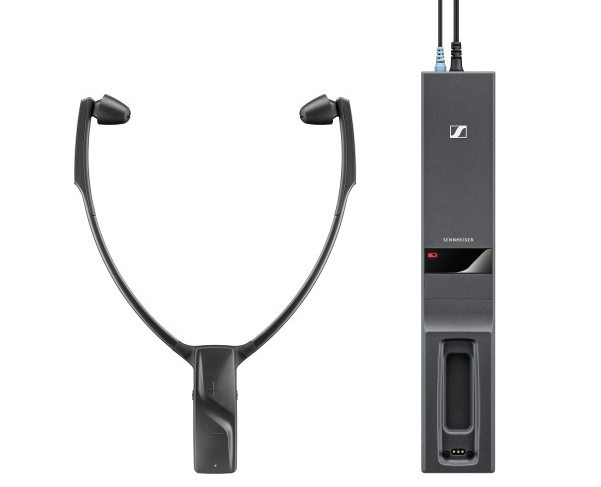 Sennheiser's two ergonomically-designed TV headphones bring a refreshing approach to improving TV audio by adding exceptional sound performance, attractive modern designs and excellent quality and durability.
The RS 2000 and RS 5000 have been created to be very easy to set up and intuitive to use. Users can tailor the sound to meet their individual needs using the easy-to-operate volume and balance controls. Clear LED indicators for battery status and operating state on the receiver and base station add further to a system that is effortlessly simple to set up and use.
Naturally, ease of use is also increased by the freedom and flexibility of these wireless solutions. Leading-edge digital wireless technology ensures great sound. The RS 2000 features a 50-meter range while the RS 5000 offers an impressive 70 meters. Both models feature durable, integrated batteries that allow for up to 9 hours of consecutive use of the RS 2000 and even offer 12 hours of battery life for the RS 5000.
The RS 5000 additionally provides a choice of three hearing profiles to enhance TV, movies or music to further tailor the sound to personal listening requirements. It also features a unique Speech Intelligibility function that makes speech clearer and easier to understand by dynamically reducing TV background noise that may interfere with dialog.
Both new models have been designed to offer elegant, practical simplicity. The slim below-the-chin design provides comfortable ear bow pressure for any head size. Meanwhile, the base station has a sleek, high-end appearance, which makes a stylish yet subtle addition to one's home entertainment system. When charging the durable integrated batteries, this unit serves as a smart docking station that lets the headset lie in a compact and tidy horizontal position.
RS 5000 and RS 2000 are part of Sennheiser's new range of smart listening products which also includes the Flex 5000, a digital wireless audio system for headphones.