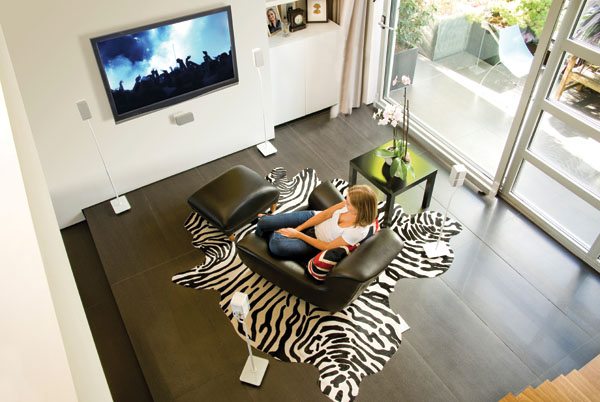 HDTVs are now the norm in a vast majority of North American households but without the immersive sound to accompany that high-definition picture, you may as well be watching an old Charlie Chaplin movie (not that there's anything wrong with such classics).
One of the reasons consumers still attend screenings at their local cinema is due to the massive, immersive sound experience available there. Everything from the faintest whisper to powerful explosions is rendered to give the moviegoer the feeling that they're in the middle of the on-screen action. This experience can be brought home by investing in a quality surround sound system – one that doesn't have to break the bank or take up your entire living room.
Many HDTV owners are tempted by the bundled theatre-in-a-box (HTIB) systems which offer a quick, one-stop purchase that includes everything to get the basic 5.1/7.1 surround sound setup. However what many consumers don't realize is that these HTIB systems are typically severely limited in their performance and options. As this article will detail, their one-size-fits-all approach will often leave you wanting more but subsequently unable to upgrade due to the constraints and limitations of the components. This means that when you eventually want to upgrade the sound portion of your home theatre, you will likely end up having to replace both the receiver/amplifier/disc player (typically combined into a single box) and the speakers as well. By investing in a dedicated compact surround sound system and a separate receiver, the two components can be tailored to your individual preferences and budget, with room to grow and expand as needed.
HTIBs suffer from a myriad of constraints that limit their quality. Their surround speakers are typically low-quality, have limited range, and are made of cheaper plastics and materials. This leads to a small soundstage often filled with hollow, tinny sound that doesn't complement what is happening on the screen. The ".1" of the 5.1/7.1 is often accomplished by a passive (non-powered) subwoofer that strains to produce any meaningful bass. The result is what is called "one-note bass," the booming, tone-deaf sound often heard emanating from modified vehicles. Bass is supposed to produce the deep, rumbling feeling when a truck rolls by or a jet fighter streaks overhead and while subwoofers do cover a narrower frequency range than surround or centre speakers, they should still produce different bass sounds instead of a single toneless thump. Lastly, these speakers are often specifically designed and tuned for the packaged receiver they connect to, sometimes with proprietary connectors, making upgrading them impossible and/or a waste of money since the source powering them won't be able to fully utilize higher-quality replacement speakers.
Powering those inadequate speakers is a box that typically contains a Blu-ray/DVD player, an amplifier, and a decoder. While these sleek, all-in-one units may be sufficient for tiny, overpriced condos in downtown Vancouver or Toronto, their limited performance won't be able to create a realistic, immersive sound experience in most rooms. Also, their limited connectivity and functionality means that they won't be able to accommodate new inputs, online streaming services, and other devices consumers are finding themselves adding to their home theatre setups. Many of these all-in-one boxes lack inputs, either analog or HDMI (and therefore the ability to upscale non-HD content) and do not support higher-fidelity lossless codecs such as Dolby TrueHD or DTS-HD Master Audio. They also lack functions found in many new mid-range and even entry-level standalone AV receivers such as iPod connectivity, multi-zone capabilities, 3D compatibility, online and network streaming capabilities (such as DLNA).
Hopefully the breakdown above will have convinced you why these HTIBs are a shortcut better not taken. By investing in a separate AV receiver and speaker set, the audio portion of your home theatre experience will see a vast improvement in functionality, future-proofing, and most importantly, sound quality.
To start, perform an assessment of what you require in a home theatre receiver. This includes key specifications such as quantity and type of inputs/outputs (analog, digital, 3D support, 4K resolution support/passthrough, etc.), speaker support (5.1, 7.1, 9.2, etc.), connectivity (AirPlay, DLNA, Bluetooth, Ethernet/WiFi, Internet, iPod, satellite radio, etc.), and other features (multizone, automatic calibration, etc.). Most receivers should cover the core requirements of the average home theatre (surround sound output and video switching) so it's features beyond those that are up to the individual user. The mainstream audio and video formats won't see significant changes and adoption for the next few years so a full-featured receiver should last just as long. On the audio side, lossless audio codecs already support up to 8 channels at high bitrates. On the video side, 1080p is sufficient for the vast majority of home theatre spaces and new receivers will typically support 4K resolution pass-through for future-proofing your investment. To learn everything you should know before buying an AV receiver, please read our "AV Receiver Buyer's Guide".
Once you've selected your receiver, it's now time to look at speakers. While several years ago, this would require researching and selecting different speakers for the front channels, centre, and surround channels, many manufacturers now offer high-quality surround packages targeted at the home theatre segment. These packages are available from recognized and respected speaker manufacturers such as Paradigm, Monitor Audio, Focal, Cambridge Audio, KEF, Definitive Technology and others. These manufacturers have taken the technology, design, and quality of their stereo speakers and adapted them into packages for the home theatre, ensuring that consumers get the audio quality they expect from such nameplates during their movie-viewing experience.
Let's take a closer look at some of these higher quality speaker packages.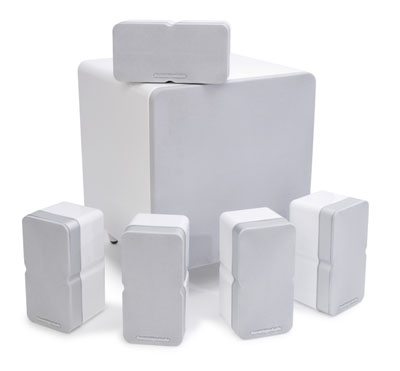 To start off the round-up let's consider the Cambridge Audio Minx series of home cinema speakers. The three 5.1 surround speaker packages offered in the Minx series are the S215 ($899), S325 ($1,499) and S525 ($1,899). The S215 package includes five identical speakers, each equipped with a single 2.25″ driver, plus a 6.5″ 200 watt subwoofer. The next level up, the S325 package, adds a second 2.25″ longthrow woofer to each satellite and includes a larger 8″ 300 watt subwoofer. The top of the line S525 system uses the same satellites as the S325 but bundles in a massive 10″ 500 watt subwoofer. All of these speaker packages are available in high gloss black or white. The Minx series has the distinction of having the smallest speakers in this round-up. The single-driver satellites in the S215 are a diminutive 78mm x 78mm, which is shorter than a can of pop. www.cambridgeaudio.com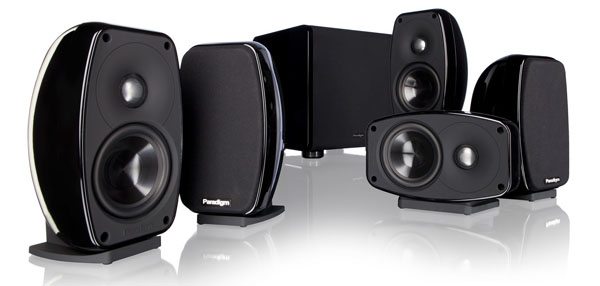 Paradigm has two 5.1 speaker system options in its lineup, catering to both small and larger budgets. The first is the Paradigm Cinema 100 CT 5.1 system which contains five Cinema 100 satellites and the Cinema Sub subwoofer (MSRP $1,099 for the set; or $329 for a pair of satellites, and $379 for the subwoofer). Each Cinema 100 satellite combines a 1″ tweeter and a 4″ bass/mid driver, while the Cinema Sub features an 8″ woofer powered by a 300 watt amplifier. For rooms that require more power, Paradigm offers multiple upgrade options. The satellites can be upgraded to the Cinema 200 model ($279 each) which features a second 4″ bass/mid driver, or for even more power, the Cinema 400 ($429 each) which features five drivers – two 4″ bass, two 4″ mid-bass, and one 1″ tweeter. For those tight on space, the front speakers can be replaced with the Cinema Trio ($599 each), which uses seven drivers to combine the left-centre-right channels into a single enclosure.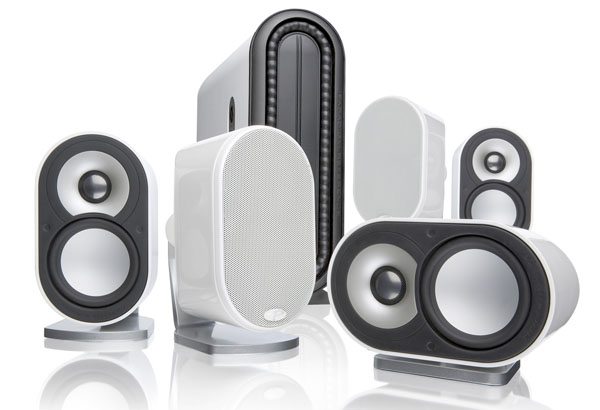 Paradigm's second speaker system offers such a high level of performance that the company made it a part of its 'Reference' series of products. The Paradigm Reference MilleniaOne 5.0 speaker system ($1,349) consists of five identical 100 watt speakers, each combining a 1″ tweeter and a 4″ mid-bass driver. All of the mid-bass drivers utilize pure aluminum cones while the high-frequency drivers are filled with a ferromagnetic fluid to increase their power handling. The matching MilleniaSub subwoofer ($1,499) has a dual woofer bipolar design and a built-in 900 watt (peak)/300 watt RMS amplifier. This subwoofer's design and compact form factor allow it to fit just about anywhere in the room, even under the couch, while always offering awesome bass performance. This system was reviewed by Suave Kajko, CANADA HiFi's editor-in-chief, back in the June/July 2011 issue and he loved it so much, it has since become an integral part of his living room. The MilleniaOne speaker package is also available in a 2.0 configuration ($549) and a 3.0 configuration ($829). www.paradigm.com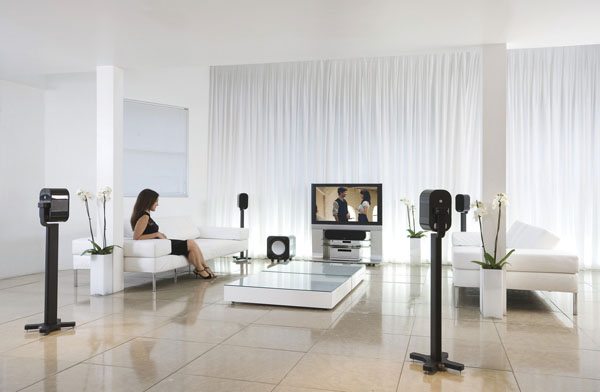 Monitor Audio's Apex series of compact, high quality home theatre speakers features two levels of satellites – the 100 watt A10 ($499) and the 200 watt A40 ($799). The smaller A10 satellite features a 1″ C-CAM gold dome tweeter and a 5.5″ C-CAM mid-bass driver. The A40 speaker contains the same 1″ gold dome tweeter but double the driver count. The bass frequencies are handled by the matching Apex series AW12 ($1,699), a 12″ 500 watt subwoofer. The speakers can be mixed and matched to suit your performance needs and budget – for example, four A10 speakers (for the front and surround channels) can be combined with the A40 as the centre channel. A more affordable 5.1 system can also be assembled by using the lower priced Monitor Audio Radius HD series subwoofer ($999). The Apex series speakers are nice and shallow, ensuring they don't protrude too far from your walls, and sound anything but small. The A10s are 140 mm deep while the A40s are only 100 mm deep. www.monitoraudio.ca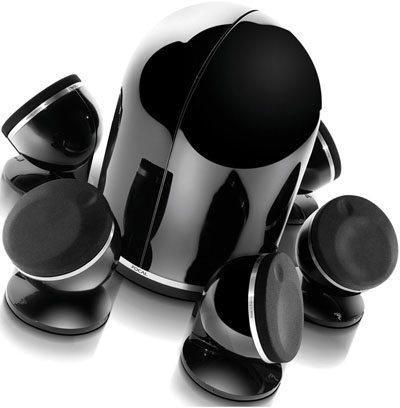 Focal, the dream speaker brand of many audio enthusiasts, offers two lifestyle series of compact speakers which allow those with smaller rooms to experience a taste of the Focal sound. The first series goes under the name Sib & Co and offers a choice of two different satellites. The Sib ($475/pair) is a compact 2-way bass-reflex speaker which offers a 5″ Polyflex mid-bass driver and a 3/4″ mylar dome tweeter. Its larger sibling, the Sib XL ($450/each), is a 2-way bass-reflex LCR speaker which combines two of the same 5″ drivers as the Sib with a 3/4″ aluminium dome tweeter. Rounding out the series is the 8″ Cub 2 subwoofer ($550), powered by a 150 watt BASH amplifier. A 5.1 package, containing five Sib speakers and the Cub 2 subwoofer can be purchased for $999.
For something both visually and technologically different, look no further than the Focal Dôme series. The 100 watt Dôme satellite ($750/pair) is a 2-way speaker that houses a 4″ mid-bass polyglass cone woofer and a 1″ inverted dome tweeter, in Focal's unique sealed dome design. While these speakers can be setup on a table or wall, their wide-range mount also allows them to be mounted on the ceiling. Accompanying the series and filling in the bottom end is the 8.3″ Dôme subwoofer ($850), powered by a 100 watt BASH amplifier. A 5.1-channel Dôme speaker package retails for $2,599. www.focal.com
Another speaker maker that offers a wide selection of attractively-styled, compact speaker systems is KEF. The company's T series contains three systems: the T105 ($1,699), T205 ($1,999) and T305 ($2,499). These low profile speakers can be placed on stands or wall mounted. There is also the KHT series, which caters to a wider range of budgets, consisting of three 5.1-channel systems, the KHT1505 ($999), KHT2005K1 ($1,400) and KHT3005K2 ($2,000). The entry-level KHT1505 system contains five identical satellite speakers, each with a 2″ driver and 0.75″ tweeter, plus an 8″, 200 watt subwoofer. The flagship KHT3005K2 system contains four identical satellite speakers (each with KEF's advanced 4.5″ Uni-Q driver array), a centre channel (with the same 4.5″ Uni-Q driver and dual 3″ woofers) as well as a 10″, 250-watt subwoofer. The Uni-Q driver design places the tweeter in the centre of the bass/midrange woofer. The result is sound that is dispersed evenly throughout the room, eliminating the "sweet spot" effect. www.kef.com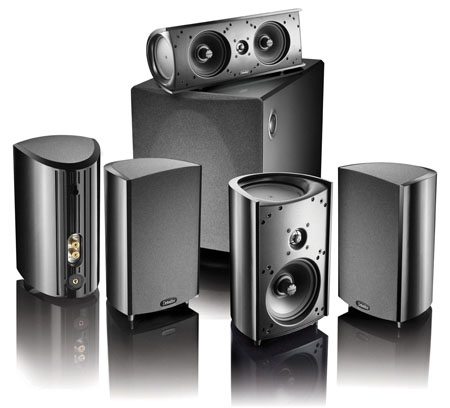 Topping up our round-up is Definitive Technology, a company that offers numerous respected compact speaker systems. For small rooms, you might want to consider the ProCinema 400 system ($699) which consists of four ProMonitor 400 satellites, the ProCenter 400 and the ProSub 400. If your room is larger than the average, Definitive Technology's got you covered with its ProCinema 1000 ($1,899) system. This package includes four 200 watt ProMonitor 1000 satellites, each containing a 1″ tweeter, a 5.25″ mid-bass driver, and a 5.25″ bass driver; one 200 watt ProCenter 1000 centre channel containing a 1″ tweeter, two 4.5″ mid-bass drivers, and two 4.5″ bass drivers; and the ProSub 1000, a 300 watt 10″ subwoofer. The centre can also be upgraded to the ProCenter 2000, which boosts the power to 250 watts. Rounding out Definitive Technology's compact speaker line-up is the high-end, ultra-flat Mythos XTR-50-based system (from $3,749), perfectly suited for use with flat panel TVs. www.definitivetech.com
With all these options, for both speaker sets and receivers, hopefully you'll think twice about HTIBs and pass them over, instead opting for an independent, standalone receiver, along with a fuller-range, higher-quality speaker set. Your ears will thank you for it and your media will sound much closer to the way it was intended.
Comments are closed.