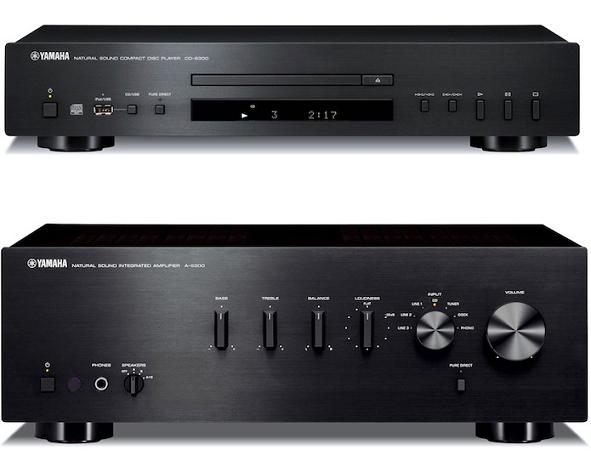 Yamaha Corporation, has just introduced two new Hi-Fi components to their line-up, the CD-S300 CD player and A-S300 integrated amplifier.  Both products are set to provide sonic purity and modern features.  Yamaha claims that great attention to detail and carefully selected parts as well as proprietary audio features have gone into these new components.  
The CD-S300 is the result of well-matched, high quality parts that are normally found in significantly more expensive components. These include: a high-grade acoustic capacitor; a new low-noise, high gain bandwidth op amp; and the use of damping material under the transformer and around the signal cables.
Yamaha's Pure Direct technology enables the audio signal to travel the shortest possible route, bypassing non-essential circuitry and tone controls for the purest reproduction of sound. Burr-Brown 192kHz/24-bit DAC, combined with the digital technology refined by Yamaha over many years, ensures excellent conversion precision, signal-to-noise ratio and dynamic range.
The CD-S300's laser pickup is isolated on a floating mechanism so vibration effects on operation are minimized.  Yamaha's proprietary Intelligent Digital Servo technology uses an exceptionally dependable Digital Signal Processor to monitor the audio signal and adjust pickup tracking and spindle motor speed to compensate for problems caused by warped discs, dust and other problems.
The CD-S300 can play back MP3 and WMA music files stored on iPods and other digital music players and USB memory devices via a fron panel USB port.
The remote control can be used to operate a connected iPod's play, pause, skip and forward/backward functions, and the song, artist and album names will be shown on the CD-S300's front panel display.
The A-S300 has a high-end look and feel similar to that of Yamaha's critically acclaimed A-S2000 amplifier.  This new model has an extruded aluminum front panel with smooth feel selector knobs.  Output is rated at 60 watts per channel. 
Like the CD-S300, the A-S300 features Yamaha's Pure Direct technology for uncompromising natural sound reproduction. It also integrates the company's acclaimed ToP-ART (Total Purity Audio Reproduction Technology) with ART base chassis construction that fully protects audio signals from noise and distortion caused by vibration.
A subwoofer output lets users add stronger bass response for extra sonic punch. The A-S300 has Continuously Variable Loudness Control that lets users turn down the volume without diminishing the optimum frequency response for audiophile listening.
Compatible with Yamaha's optional YDS-12 wired and YID-W10 yAired docks, this model delivers the best possible sound from iPods and iPhones by leveraging the docks' independent power supplies, resulting in a higher signal-to-noise ratio. The A-S300 also utilizes a balanced system to receive the signal from the iPod/iPhone, which further reduces voltage noise for higher sound quality.
The A-S300 includes a newly designed slim and ergonomic remote control that offers intuitive ease-of-use.
The CD-S300 CD player is currently available for an MSRP of $349.95 U.S., while the new A-S300 integrated amplifier will be available in October 2012 at an MSRP of $379.95 U.S.  For more information vistis: www.yamaha.com.